Garden pathway project promotes accessibility on campus
Behind Teresa Hall lies a garden with sprouting plants and Adirondack chairs surrounding a table supplying sunscreen and bug spray — this is the St. Edward's University campus garden. It was created and is maintained by the student organization Students for Sustainability. 
Last school year, Disabled Students Organization, led by president and founder Esther Heymans, reached out to SFS to find ways the organizations' interests aligned. The conversation, according to Heymans, focused on the importance of green spaces and composting on campus. Heymans learned there was a composting bin at the community garden, but she realized how inaccessible it could be because it was located down a hill and through grassy terrain.
"The garden was spaced on a sloping piece of ground that hadn't been leveled, but was simply grass and turf. It was uneven and had been worn down," Heymans said. "It became more and more apparent that we needed to do something about physical accessibility on this campus."
Heymans is an ambulatory person, or someone who can walk without a mobility aid, but as the president of DSO, she realized the work that could be done to help students that use mobility aids. 
As BIG Event approached — a student-run service program in the spring that consists of multiple service projects — DSO, SFS, the BIG Event Team and Campus Ministry worked to create an accessible pathway to the garden. 
Heymans; Ethan Tobias, SFS president and last spring's BIG Event Director; and Luke Tobias, SFS garden director, researched and helped create the plans for an accessible gravel pathway. This involved tamping down soil so people with mobility aids could safely wheel over the path. 
"My team and I were fully on board," Ethan Tobias said. "How are we supposed to build a community with a portion of that community being left out? We recognized that we as an organization weren't stepping up enough. The sustainability issue and our garden is meant to be for all students."
The walkway was funded with help from Campus Ministry and grant money from the Office of Sustainability, according to Ethan Tobias. There were 150 volunteers at BIG Event and 30 of them spent their time at the garden, some of whom helped create the path.
On April 11, SFS posted a picture of the complete pathway to their Instagram and thanked everyone who helped. 
"As an organization we will continue to make our spaces and events more accessible for all," Ethan Tobias said. "We cannot make our campus more sustainable without the help of all Hilltoppers."
Heymans describes the SFS garden and pathway as "a pilot space," to make the overall campus more accessible.
"We can use the SFS garden as a pilot for how we are going to make the overall campus grounds more accessible and what steps we are going to take," she said. 
But the gravel pathway is not the most accessible, according to Heymans and DSO social media manager Maggie Van Dyne. 
"
It became more and more apparent that we needed to do something about physical accessibility on this campus
— Esther Heymans
"That gravel path still doesn't really work for people who use a wheelchair or scooter," Van Dyne said. "In the future, it would be great to see some sort of paved pathway down there that isn't necessarily as steep. Kind of a gradual hill down to the garden that makes it more accessible and is not as rocky and uneven."
DSO and SFS did look into building concrete walkways but decided against it because of the cost.
"I wanted to make sure the path was wide enough for wheelchair access, as well as the steepness," Luke Tobias said. "Although the walkway is better for walking on, and we made sure to decrease the steepness, a concrete walkway would have been the best option. It just wasn't feasible with the funding we had and the necessary permits needed from the City of Austin to complete such a project."
The gravel walkway was the first step to creating an accessible walkway. 
"It's not a shut door on the possibility of adding a concrete walkway to the garden," Ethan Tobias said. "Last year, we wanted to at least start our first steps towards an accessible garden."
While concrete pavement is the "gold standard of universal accessibility," according to Heymans, she also pointed out that it contrasts some university efforts to reduce their carbon footprint on natural spaces.  
"There's this dialectic that is always going to come up with accessibility versus aesthetics, or accessibility versus sustainable goals," Heymans said. "I think something that's really important to keep in mind is that those don't have to be contradictory terms; but if they are, people need to access spaces and that needs to come before other things. I know there is hesitation on campus to add more pavement anywhere, but there also are larger pieces of this conversation in terms of overall campus outside accessibility."
As for inaccessibility in other outdoor areas, Heymans and Van Dyne noted sports fields, specifically the tennis and softball fields, require traveling down a flight of stairs or a grassy patch of land, usually downhill. Heymans said the bus station is also inaccessible, but that conversations around a paved pathway haven't always been successful. 
Creating a gravel pathway to the garden was the first step to creating accessible outdoor spaces on campus, according to both Heymans and Ethan Tobias.
"It's not only 'can they (students) get to classes,' but 'can they also access every other space where people can gather and kind of exist as a community?'" Tobias said."Everybody deserves access to an outdoor community space. It is an essential part of living well and being involved in the community."
Leave a Comment
About the Contributor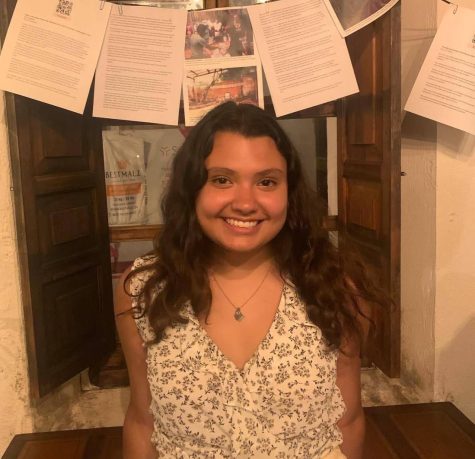 Nina Martinez, Copy Editor
Nina Martinez is a senior at St. Edward's University, earning her Bachelor's in Writing and Rhetoric. Martinez has reported and edited for Hilltop...