TribFest returns in person, showcases political, media conversations
The Texas Tribune Festival was back in person this year after being virtual for two years. The Texas Tribune took over Congress Avenue Sept. 22-24 and hosted more than 160 sessions (double what they hosted the previous year). Attendees lined up outside of the Paramount Theatre and other venues to hear in-person sessions from journalists and politicians. Attendees could still take part in the festival virtually this year, and some sessions were offered only online. 
"It's a completely different experience," Chief Communications Officer for The Texas Tribune Natalie Choate said. "While you may come across some of the same topics or the same speakers, witnessing that spark on stage and feeling the buzz on the ground — that's something you can't replicate in a virtual setting."
COVID-19 precautions were taken, with masks and hand sanitizer readily available, but overall the festival looked very similar to how it looked pre-Covid. TribFest thrived as a campaign stop for many politicians during this election year, such as gubernatorial candidate Beto O'Rourke.
The festival has been hosted annually since 2010. A variety of programs were available to attend, including one-on-ones with Liz Cheney, Ted Cruz, Dr. Fauci and others.
 "You never know who you're going to bump into at the event … we are thrilled to be able to offer that up," Choate said. 
Panel discussions that highlighted both politics and the media were at the forefront of the festival and covered issues like infrastructure, criminal justice and education. 
"I think the biggest theme we saw this year that worked its way into a lot of panels regardless of the original stated topic was the fight for democracy." Choate said.
This theme was reflected in the festival's headliner, Liz Cheney. Cheney has been in the spotlight for leading a committee in the House to investigate the former President's role in the Jan. 6 attack on the Capitol. Cheney vowed to campaign for Democrats against candidates like Kari Lake, who are election deniers. 
"I'm going to do everything I can to make sure Kari Lake is not elected," Cheney said to TribFest attendees. 
This theme continued in a panel titled "After Roe" hosted by Ana Marie Cox, a columnist for The Cut. During the panel, concerns about democracy, gerrymandering and voting rights were raised. The panel included President and CEO of Planned Parenthood Alexis McGill Johnson, State Representative Donna Howard and former State Senator Wendy Davis, who famously held a 13-hour-long filibuster in 2013 to block a bill restricting abortion access in Texas. 
"I've watched the systematic way Republicans seized power and created a system that allows them to hold power in a way that is not reflective of the majority of people who live in this state … and the root of that evil is (attacks on) voting rights, the root of that evil is gerrymandering," Davis said.
Whether a panel was one-on-one with a prominent politician, or a round table discussion about current dominant discourses, the conversation always seemed to boil down to the root issue: the state of American democracy. 
Journalism's importance, particularly in relation to public engagement and its vitality in maintaining democracy, was also emphasized throughout TribFest. 
The crucial role of public broadcasting, local engagement, documentary and long-form journalism was discussed at a panel titled "The Power of PBS," and it featured Brian Stelter, a former CNN anchor; Judy Woodruff, the anchor and Managing Editor of PBS Newshour; Raney Aronson-Rath, the Editor-in-Chief and Executive Producer of Frontline; and Paula Kerger, President and CEO of PBS.
"Journalism is a record," Woodruff said."We are publishing this so people can see it. Call it an oral history of our time."
Other panels covered Texas-specific issues. Panels called "What Happened in Uvalde," "Power Struggle" and "Below the Line" discussed school safety, the power grid and poverty in Texas. These are leading issues in upcoming Texas elections. 
Besides publications and politicians, students and organizations were also in attendance at the festival. Students like Hairuo Yi, a junior at the University of Texas and the DNI editor at the Daily Texan, were in attendance. Yi, also a member of Students for Planned Parenthood, was particularly interested in parts of the festival relating to reproductive policy. 
"I've always wanted to be involved in more policy and politics," Yi said.
Organizations set up booths all down Congress Avenue, speaking to thousands of people throughout TribFest. Supermajority, which works to mobilize women all over the country to vote and get involved politically, attended the festival to reach the crowds.
"TribFest is where you meet the political future of our country … we saw who was coming to speak and knew we had to be a part of it," Jessica Herrera, Supermajority's communications and marketing director, said.
The return of TribFest signifies a comeback to large community gatherings. Looking forward to next year's festival, The Texas Tribune will continue to get the public the news they need.
"We view TribFest as an extension of the Texas Tribune's mission to inform the public and hold those in power accountable," Choate said. "It's also a place where we all can come together and take part in civil and informative discussions. Every year there is something for everyone at TribFest." 
Leave a Comment
About the Contributor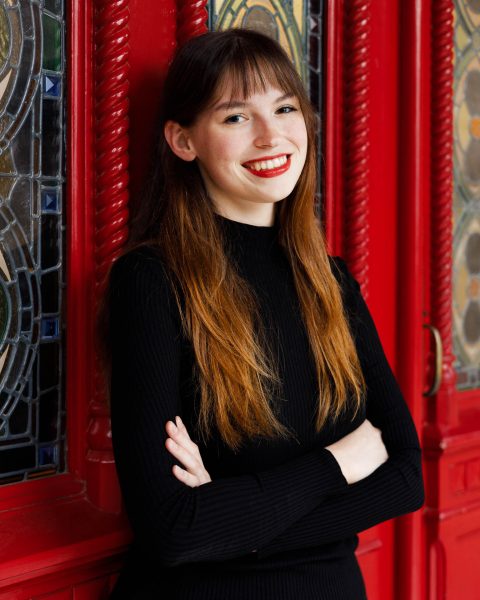 Chloe Almendarez, Managing Editor
Chloe Almendarez is a senior Psychology major with a minor in Education Studies. This is their second year working with "Hilltop Views" as Managing Editor....