MMNT to open "Godspell" as first production of the semester
Mary Moody Northen Theatre's production of "Godspell" will take place from Feb. 16-26. It is directed by Anna Skidis Vargas, resident director of MMNT and assistant professor of performing arts. 
"It is a retelling of the Gospel Matthew," Vargas said. "The way that we are approaching it is an unlikely community comes together in support of the teachings of Jesus, who we are approaching as he's a radical, he's an activist."
The musical was originally composed by Stephen Schwartz and written by John-Michael Tebelak. It is a series of parables, mostly from the Gospel of Matthew, with music set to traditional hymns. 
"Our approach to the design for this one is to keep it as green and sustainable as possible," Vargas said. "So, the majority of what you see on stage will have been upcycled or thrifted, or creative reuse I would say."
Most of the props are made from recycled or reused materials from campus and the city of Austin. There were some things that have been repurposed from other shows, as well as donations from students, like the empty, plastic Topo Chico bottles used to make a chandelier. 
Many materials also come from a place in Austin called Creative Reuse. In addition to this, most of the costumes have come from thrift stores.
"We're basing it in Austin," Vargas said. "It should very much have a sort of South Congress vibe. It is like, picnic tables and we'll have string lights and it'll feel like you're going to see a band behind a restaurant-bar type place on South Congress."
This type of creative direction was inspired by the sense of community that the show is based on. Vargas brought images of local murals, color palettes and similar vibes to Austin because she wanted the show to have a homey feeling for the audience. 
The design of the show was inspired by places familiar to Austin locals, like Cosmic Coffee, The Cathedral of Junk and The Castle Hill Hope Art Outdoor Gallery. Other Austin influences that can be seen in action on the stage is the use of tortillas in the Last Supper scene and students throwing toppers up to mimic goats. 
The community engagement aspect of theatre has been a large part of the design for this show, putting an emphasis on what can be done while in the production process that will benefit the Austin community itself. 
Part of this commitment will be a hike to pick up trash in Blunn Creek with the cast of the show and a food drive that will take place and be open to patrons in order to gather food donations for multiple local food banks. 
"We have really, truly created a new little community that has been a lot of fun," Vargas said.
Tickets can be purchased online on the MMNT Mary Moody Northen Theatre page on the St. Edward's website. Tickets are $30 and you choose seats when you order your tickets online.
Leave a Comment
About the Contributor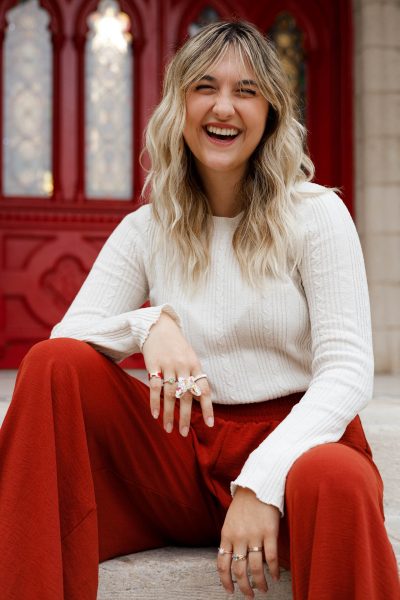 Lola Claire, Assistant Life & Arts Editor
Lola Claire is a junior writing and rhetoric major with a concentration in creative writing and a double-minor in Journalism and Digital Storytelling....