Visiting artists showcase ongoing sustainable project, PlantBot Genetics
Visiting artist Wendy Deschene and environmental artist Jeff Schmuki spoke to students and professors in the Fine Arts Center on Jan. 11. Attendees came to hear more about Deschene and Schmuki's ongoing environmental sustainability project called PlantBot Genetics. Deschene and Schmuki each touched on their own work as artists and discussed their collaborative project.
Deschene shared first.  Her grandmother was one of many Native Americans who were taken away from their homes,families and sent to a boarding school  thousands of miles away. The school's goal was to separate Native American identities and cultures from the individual as a way to westernize them. This was a frequent occurrence between the 16th and 19th centuries These Native Americans were forced to look and act a certain way that did not resemble where they came from. 
She explained how this experience changed her grandmother and soon affected their family dynamic. Deschene's mother had issues accepting her own identity and, in turn, refused to have anything to do with their Native American culture even though it was a part of their DNA. It wasn't until she was 75 years old when she was able to accept her true identity. Deschene's current work involves creating digital paintings with low-resolution internet images. She takes  images from the internet of artifacts and paintings and drawings of animals and combines them with  paintings of Canadian landscapes of places close to her home in Northern Ontario. Her goal is to create a language that explains her own experience and who she is.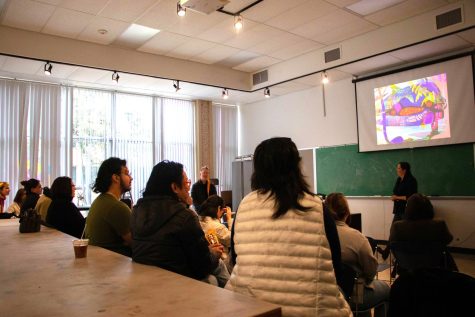 "It is the work of my generation to start talking about these generations of trauma that our families experienced," Deschene said. "If you have a story to tell, it is important that you tell it."
Unlike Deschene, Schmuki is an environmental artist who focuses on ceramics and bringing awareness to environmental sustainability. They joined forces to form a biotech corporation called PlantBot Genetics, which brings awareness to transparency in food production and the importance of insects and plants within the environment with the use of animatronic sculpting. 
"I never thought in a million years that I would be creating work like this," Schmuki said. "Everything PlantBot Genetics does is a way to tell stories and get communications talking about environmental concerns."
Deschene and Schmuki host workshops out of their mobile trailer that acts as their workspace where people of all ages can create bots out of plants. These activities help facilitate a safe space where they can talk about their food and the environment. Their goal is to educate and share information about why insects are important for our survival.
Deschene and Schmuki's individual and collaborative work focuses on the omission of information and how it's taken away from others, emphasizing that  the generations to come are responsible for deciding how to return this information  into the world in an honorable and respectful way.
Leave a Comment