Senior photography majors showcase exposition "In Search Of" with themes of identity, discovery
A long line of students, friends and family stood wrapped around the outer perimeter of the Fine Arts Center on Friday, March 24 as they awaited the opening of the senior photography exhibition,"In Search Of."
The exhibition doors opened to the crowd as they braced for the first viewing of the seniors' work since beginning their journeys early last semester. The exhibition showcases 10 photography students' displays of work that connect with themes of identity, experiences and trauma, dreams, discovery and escapes from reality.
The opening reception was full of faculty, staff, fellow students, alums and many others who supported  the senior exhibitionists who were displaying their work for the first time. The room was quiet at first as attendees observed various pieces within the gallery space. But soon after, the room livened up as artists took to sharing their work and details behind their art. 
Each students' work is inspired by the moments they've experienced, leaving them with lingering feelings and a longing for understanding. The exhibition allowed  them to turn their complicated and sometimes painful experiences into something beautiful. To share their stories, connect with the audience, and visually portray what they've been through, The photographers spent an entire semester researching topics  making plans to turn their experiences into tangible pieces of art, intending to share their stories,  connect with the audience, and visually portray what they've been through.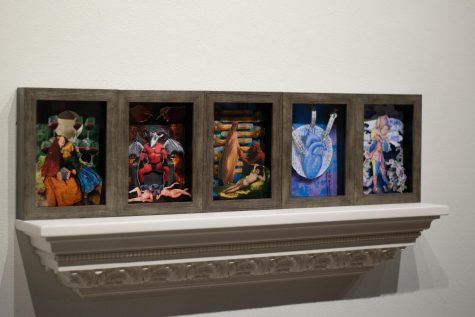 "Step One is a series of five collages," senior Clara Rabe said. "Each represents one of the five stages of grief inspired by my partner's relapse. The imagery is inspired by classic tarot imagery, assigning one card to each stage of grief. This project explores my feelings towards addiction, substance abuse, and the grief and loss it causes those experiencing it and their loved ones."
Rabe's piece was one of many inspired by personal events and focused the conversation on how these experiences are commonly shared among others.
Between delicious bites and sips from the refreshments provided outside of the Fine Arts building, attendees perused through the gallery as they took in the art and wrestled with their interpretations of it. 
"I love photography," sophomore Lia Munoz said. "I just love seeing people express themselves. I loved each piece. It is amazing how each person was able to express something that they've gone through in such a creative way."
Artists also got to show their loved ones their work and the work of their peers, explaining all of the personal touches and interpretations.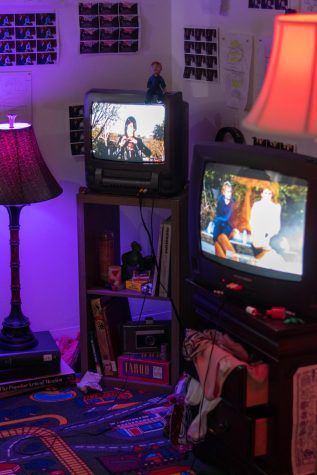 "After keeping a dream journal for a month, I created a three-part (series) film from my findings," senior Roberta Cornew said. "This (work) is a piece about introspection to encourage people to take a step inwards and listen to what their dreams are trying to tell them."
Eachartist took a different approach to display a variety of emotions and experiences, creating pieces that could speak to a broad audience through their artistic talents and creative visions. The project as a whole, is aimed at connecting people through visual media and shared experiences so that we may find the threads that bind us to one another.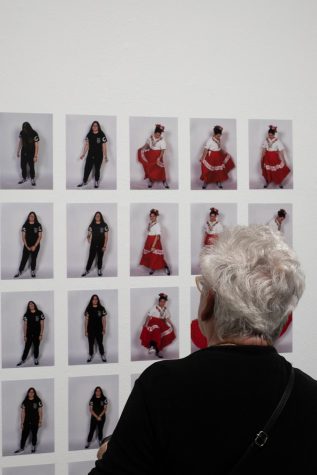 "I aspire to create photographs with depth that successfully influences the many ways one can interpret ideas and feelings," senior Madeleine Gonzalez said. "Both independently and in relation to each other."
The show was bustling until the very last moments of the opening reception, as friends, family and photographers discussed the pieces over the remaining refreshments. 
Students can still enjoy the display in the Fine Arts Gallery through April 10. The showcase is free to visit during the center's operating hours of Monday through Friday from 9 a.m. to 5 p.m. and Saturday from noon to 4 p.m.
Leave a Comment
About the Contributor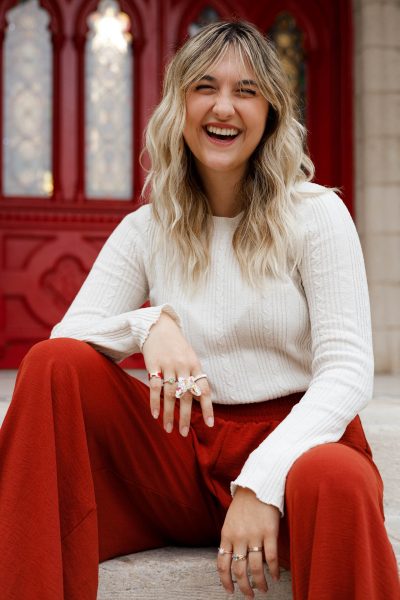 Lola Claire, Assistant Life & Arts Editor
Lola Claire is a junior writing and rhetoric major with a concentration in creative writing and a double-minor in Journalism and Digital Storytelling....