For many Texas natives, homecoming holds a sacred place in all things football and school spirit. From the mums and garters of high school past to the face painting and cornhole at college tailgates, homecoming is a long-held tradition for schools nationwide. 
It is an opportunity for schools to invite alums back to their alma mater to celebrate the legacies and traditions of the campus alongside fellow students. Though this occasion is celebrated throughout the U.S., everything tends to be bigger in Texas, and St. Edward's is no exception, commemorating over 93 years of the homecoming spirit.
The tradition began long ago, dating back to the university's St. Edward's High School and military academy when the mascot resembled the likes of Tony the Tiger. Reports of homecoming games, formals and socials appear in The Echo, the school's then-newspaper, throughout the 1920s into the early 40s.
Since then, students have come to know a more unconventional and elaborate homecoming.
The school once opted to host the celebration in the spring because more significant campus events like Alumni Week and Hillfest are held during that semester. It has since been moved to the fall within the past year (2022) due to the unpredictability of spring weather and because the alumni board felt it would bring the familial feel of a Texas-sized fall homecoming. By separating the events, the university can solely focus on producing a well-thought-out homecoming experience, welcoming old and new students to the hilltop once more.
"The greatest part of the homecoming weekend is seeing the alums come back, hearing their stories," alumna Denise Rocha '99 and executive director of Engagement and Alumni said. "It's the organic moments that come up (between alum and students) that lead to so much more. There is potential for a positive connection for the students in terms of networking or maybe helping them with their career path. It's definitely positive for the alums because they can see ways that they can be involved, and they see how St. Edward's is evolving from their experience until today."
For the past 13 years, Rocha and her team have been responsible for planning and conducting most homecoming events. She stressed how important it is to reach out to alums and students to gather a grander sense of what they would like to see and attend during the homecoming season. During her time studying on the hilltop (1995-1999), there were only small gatherings to honor the event; she mentioned that today, the student experience has been more extravagant than ever and is a big part of their planning process.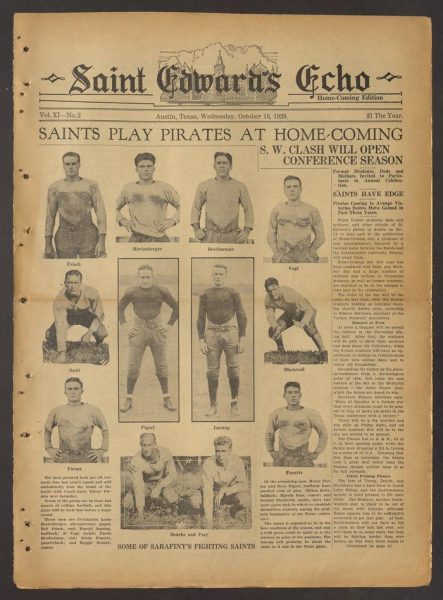 Though traditions like the Topper Cup, first inducted in 2001, have been carried out for several decades, others have faded as the years pass.

St. Edward's was once home to a football team, presumably originating  between 1896 and 1901. The team brought home two Texas Conference titles in 1933 and 1939. Reports of the Tigers, St. Ed's high school team, can be found throughout the 40s.

During the early to mid-50s, the university hosted annual bonfires to ignite the homecoming spirit for sporting events . Students also attended glamorously themed formals; both were once all the rage. 
Curious and eager to know more, Hilltop Views peeked into the Munday Library archives to unravel the homecoming lore that has remained, or rather, that has been long-forgotten.
"St. Ed's has a really unique and interesting history," Travis Williams, archivist and special collections librarian for Munday Library, said. "Everyone can find something in (the archives) that resonates with them. The great thing about archives is that no two archives are going to be alike."
The archives were bountiful with the rich lineage of St. Edward's history. From old Topper mascot costumes to the bounds of the long-forgotten Tower yearbooks, once inside, it was like jumping into a blue and gold time machine hurtling through the university's past. 
"Everything in an archive, for the most part, is one of a kind," Williams said. "No other archive on Earth has St. Ed's history to the extent we do; no other archive on Earth has Texas beer and distilling like we have, so while you are here (on campus), you should make an appointment and come just hang out and chat."
As our bewildering search through the archives continued, it was intriguing to find that there once were themed homecomings, such as "Fantasy Voyage," along with various other events that brought the student body together.
Battleship cardboard boat regatta was a past Topper Cup staple, requiring students to band together to form cardboard boats to sail across the once-filled university pool.
Another surprising discovery was the recently implemented homecoming parade, an idea struck by Linda Valdez, Business Manager of the College Assistance Migrant Program, with the first instance being in spring 2022.
"It was just something that had been floating in my head for a while," Valdez said as she recounted her previous parade experience as the staff advisor for the Ballet Folklorico group. "It was a time when the university was looking at a way to build up traditions and to create more traditions and kind of boost homecoming and what it represents."
She drafted a proposal for the parade and was pleasantly surprised when the homecoming committee accepted her proposal. It was a grassroots effort, as Valdez puts it when discussing the collaboration between the various campus departments, organizations and administrative staff. As part of the Austin impact, they connected with the surrounding community, approaching various organizations like the William B. Travis High School Marching Band and Del Valley High School Grand Marshall and Color Guard.
"I've been at St. Edward's for 26 years, and I know that traditions are hard to continue when one person only does it because when that person leaves, that tradition tends to fall or go with them," Valdez said. "So I wanted to create a new tradition for homecoming and ensure that it becomes part of the campus community and be something that will always be here, hopefully way past me. We open the planning committee to all staff and faculty, so it is all volunteer based."
Keeping tradition alive is a very significant part of the homecoming committee's planning and maintaining of the blue and gold spirit on the hilltop. Some events have stood the test of time. The beloved casino night, previously coined as Casino Royale and first appears on the hilltop in 1968; the Halloween block party that originated in 1949 has been bringing ghouls out ever since; and the long-anticipated annual tailgate that brings alums and students the opportunity to visit and intermingle alongside campus departments and organizations.
"It's wonderful to see students together celebrating – I love St. Edwards, and I like to see other people love it too," Br. Larry Atkinson '70 said. "To come together, have the parade, and have the tailgate; it means a lot to me as a holy cross brother, having been here. It's nice to see that tradition continues on. It's a wonderful experience to see that this Holy Cross tradition is not only continuing, but increasing." 
 Homecoming proves to be an all-encompassing celebration that ignites the pride we all share for our fellow alma mater. Much like anything else, traditions will ebb and flow through the river of time, and St. Edward's has seen many come and go over the years. Still, one thing remains true: that blue and gold runs deep and connect us all, regardless of how many decades come in between.
"It is really fun to see that no matter how old you are or when you graduated, we all have that one thing in common, and that is we are Hilltoppers, and we're St. Ed's, so it is great to see people connecting just based off of that and then creating these memorable friendships or networking relationships," Angelica Carrete '20, Marketing Manager for the Office of Advancement, said.
For those who may have caught a history-buff bug or want to know more regarding St. Edward's history, Munday Library's archival and special collections department takes appointments throughout the week. Who knows what treasures await you?