Earlier this month, renowned rock-n-roll photographer Michael Weintrob and the Health Alliance for Austin Musicians (HAAM) showcased and uplifted local musicians through an interactive art exhibition at Antone's, an Austin live music hub since 1975.
"(HAAM is) doing good for the community, and we have the same type of vision," Weintrob said. "I want to educate people on who these musicians are, and (HAAM) want(s) to help make sure that they're healthy, and so do I."
Many referenceAustin as the "Live Music Capital of the World." While the pandemic and the recent boom in tech developments may have put that title in jeopardy, Austinites' love for music runs deep. In the last few months alone, people gathered all over the city to celebrate music, from the world-famous music festival Austin City Limits to the family-run Austin Record Convention to East Austin's Eastside Kings Festival.
Locals are making sure that the Austin music scene stays alive, while nonprofit organizations and fundraisers such as HAAM and Weintrob are ensuring that its musicians stay healthy.
"It's like a buffet," HAAM contributor and exhibition attendee Reed Armstrong said when explaining that, by donating time or money to HAAM, people can support local musicians.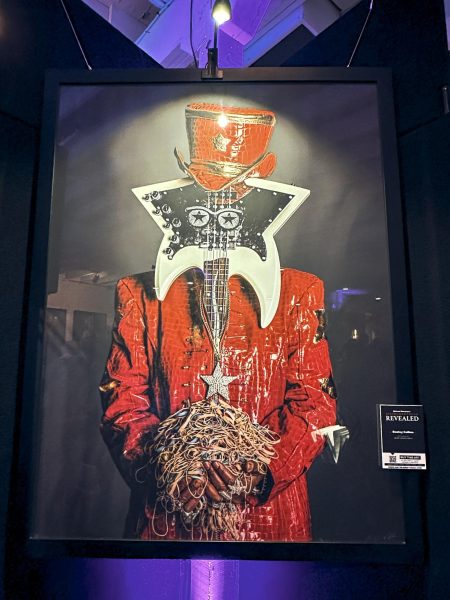 The nonprofit focuses on making healthcare affordable for Austin musicians so that they can continue to create music without the added stress of poor health or financial insecurity. In 2022, HAAM served over 3,000 local musicians, according to their annual impact report provided at the event. This year, they continue to see growth in their number of benefactors, particularly in the Pearl Society, a special designation among HAAM donors given to anyone who donates upwards of $1,000 each year.
To thank their contributions, HAAM and Weintrob joined forces to offer Pearl Society members a first look at Weintrob's latest art exhibit, "Instrumenthead Invasion." Memberswere encouraged to bring along multiple guests to the opening. HAAM community engagement coordinator Ally Keeper says that HAAM is looking to bring more visibility to the many ways HAAM is taking care of local artists. The organization gains traction by offering events in iconic Austin venues, such as Antone's.
"This is an amazing venue, a longtime Austin staple," musician Gordie Johnson said. "Antone's has birthed so many great musicians over the years and given back to the community."
On the top floor of Antone's, Austin's "Home of the Blues," attendees were welcomed with food, drinks, live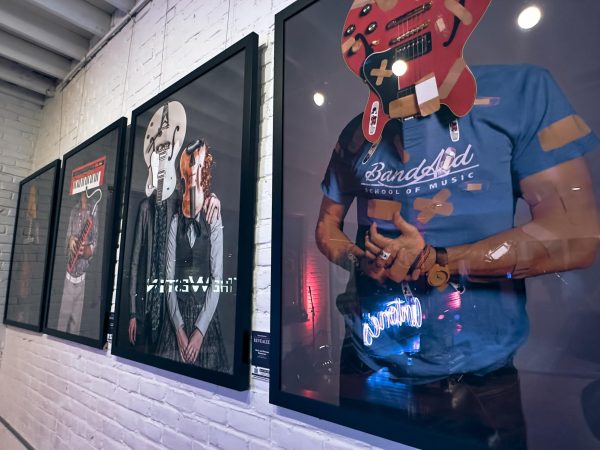 music and Weintrob's photographs. HAAM wanted to feature local female artists at this event, with performances from Soul Supporters and Natalie Price. Both have recently released new music that is now streaming on Spotify.
As music reverberated through the walls and conversations flowed just as freely as the booze, dozens of photographed 36-by-48-inch portraits decorated the walls. Each one was large, featuring one musician – with one exception of a duo. Almost every portrait had one unusual quality: the subject's face was missing.
"They say that portraits are all about the eyes, but you can look at these photographs and you can feel the people," Weintrob said.
Weintrob attributes this sense of familiarity to the inclusion of the musicians' personal items. For example, pianist Marcia Ball poses with her tiny red piano covering her face; Bootsy Collins' portrait features his signature top hat and starry glasses on his electric guitar, emulating his face.
The original collection was first assembled in 2018 and only included faceless musicians. However, in 2020, Weintrob took advantage of the natural break the pandemic provided to revisit this project and capture the entire musician, face and all. At that time, he also created virtual venues for musicians to perform.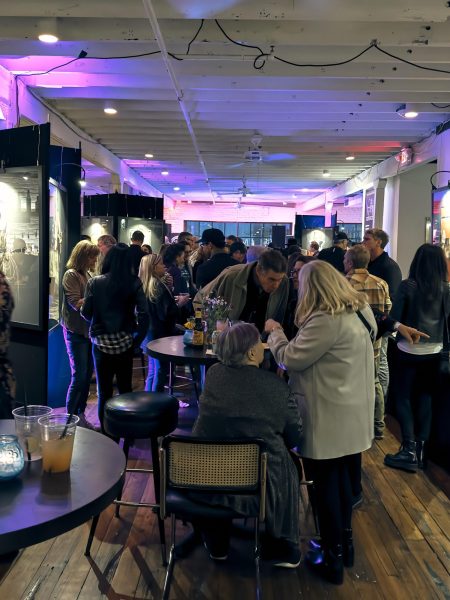 Weintrob has self-published the "Instrumenthead" collection as a pair of coffee table books: the first features the anonymous portraits only and then the follow-up book where their faces are revealed. He used his own publishing house, Magnet Bound Press, a printing company in Italy and crowdfunds to make these books a reality. Those books were on sale during the exhibition. A portion of the sales has gone to HAAM to continue supporting Austin musicians, both those featured in the gallery and those who are not.
Much like his subject's personal touch in every photo, Weintrob curates each gallery to where it's being shown. About 90% of all the musicians shown in the gallery come from Austin or are connected to it in some way, Weintrob explained.
This includes the late Brad Houser, who died earlier this year. Houser is one of the few musicians in the gallery whose face is revealed. Housed in Antone's, Houser's first portrait — even with his face hidden from view — embodies him as the lifelong musician that he was, while his revealed photo reminds the community of his comforting presence.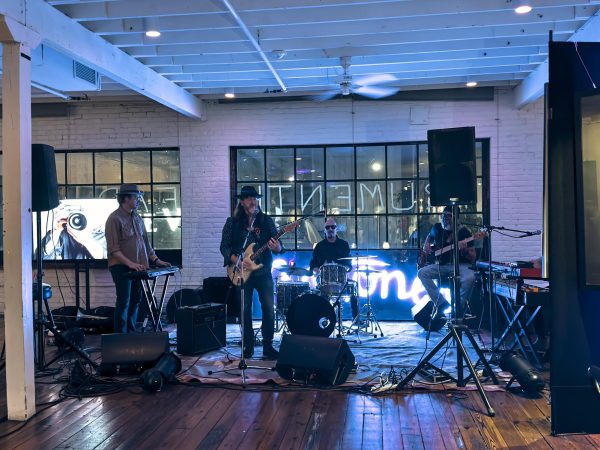 "Music to (Brad) was like his religion basically, so I guess in that sense, it's always a spiritual experience playing with him and also remembering Brad," musician Matt Hubbard, who was also featured in Weintrob's gallery, said.
An accomplished bassist, the Austin music community honored Houser on the closing night of the gallery. In the words of Johnson, it was less a performance of a single genre and more so "an Austin jam session." Musicians who worked with and admired Houser over the years – including Hubbard, Johnson, Robb Kidd, Jay Stiles, Garrett Lebeau and Bobby Perkins – spent the last two hours of the exhibition playing music.
Set within a treasured piece of Austin's musical history, the pop-up gallery "Instrumenthead Invasion" demonstrated the range of community that one place can hold. The gallery created a space for many musicians to feel seen and supported.
As Weintrob returns to his hometown of Nashville, HAAM has another fundraising event called "A Night of Storytelling" featuring Brené Brown and Austin artists at the Long Center on Nov. 12 at 7 p.m.
You can support Austin musicians by contributing to HAAM or another nonprofit organization. Better yet, explore the city for yourself, find local musicians you connect with, and attend their shows.