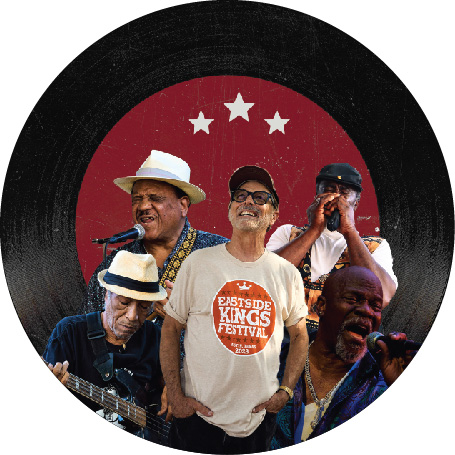 Historical East Austin has seen many changes over the last several years, becoming yet another area of the city to see communal and cultural erasure through means of gentrification. Yet in the wake of so much change, it has managed to keep its roots, oral histories and music at the forefront of Austin's rich cultural history. 
The 11th Annual East Side Kings Festival is where homegrown Austinites keep their rhythm and soul alive in what was once predominantly known as the world's live music capital. The Eastside Kings Foundation is run and presented by founder Eddie Stout, owner of Dialtone Records. Stout and dozens of other dedicated musicians work all year to prepare for the festival and are here to share the history that made Austin so unique in the first place. For them, the festival shows natives and newcomers that "Old Austin" is still here and here to stay.
"The process is mainly trying to get donations," Stout said. "You know, get somebody to believe in what you believe in and support it."
In a vastly changing city, whose communities have become by-products of million-dollar developments, events like Eastside Kings Fest are helping those communities regain the neighborhoods that raised them through the rhythm and blues that the district was built upon, remaining resilient despite the various challenges.
Day one: A walk down memory lane
Day one of Eastside Kings was filled with soulful blues and gospel tunes that could lift one to the heavens above. In the heart of Austin's historic East End, nearing 12th and Chicon Street, the mellow hum of attendees gathering at El Tigre Coffee Roasters was overtaken by an ever-present sense of community. As attendees gathered, Terry "Harmonica" Bean, one of the many musicians performing at the festival, set the stage and began a pre-set warm-up. 
The Mississippi native and traveling Blues man spoke passionately about his life. As one of 24 siblings, Bean knew that he was "born with it" when it comes to blues. In the 80s, Bean was being recruited to play baseball for the Cincinnati Reds and the California Angels, but a terrible motorcycle accident cost him his major league career. His family encouraged him to forget baseball and focus on his other talents. During such a pivotal moment, Bean was called to play the blues.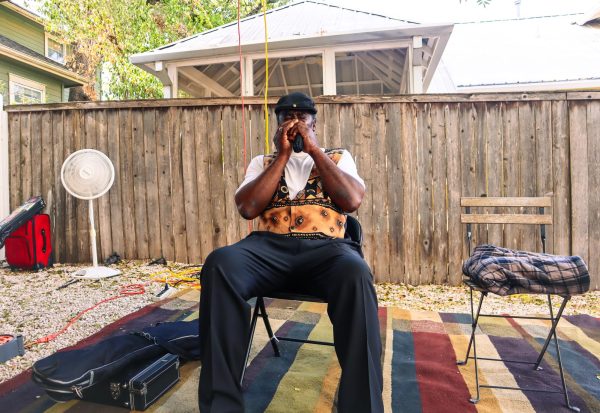 "And my grandfather talked to me, said '(baseball is) not for you. You play that blues; it'll do something for you,'" Bean said. "I always played it around home, but when I quit playing baseball, I started doing this. I was doing it because my grandparents had passed, and my father had passed. Nobody in my area–Pontotoc, Mississippi–ran the hill country blues that I heard coming as a boy."
Bean has been playing blues and traveling the globe ever since 2008. A long life of playing blues worldwide has taught him an important lesson: Blues is the world. 
"The Blues comes at you all different ways," Bean said. "You can have what you want; everything going good for you. It's still the blues. You might have everything falling apart on you. It is still the blues. Everything on this earth is the blues."
In addition to blues, Eastside Kings also welcomes jazz and gospel musicians. The Jones Family Singers and the Moriah Sisters were two gospel groups on Saturday's lineup. 
The Jones Family transformed their performance space at the Station Recovery Community Center into a spiritual haven through their harmonization and passion. Performing a Christian version of "Hit the Road Jack," complete with belting vocals that hypnotized onlookers unaware of the festivities, the Jones Family made a courtyard into a house of worship, whether you were religious or not.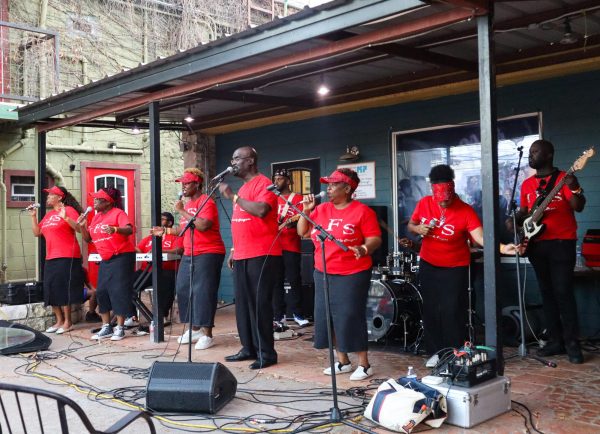 Julie Zoch, a first-time festival volunteer, felt she needed to help facilitate the festival. She strongly connected with the Jones Family Singer's last few songs. When the crowd stood up and joined together, there was an incredible sense of community.
"To have access to this kind of music is everything," said Zoch. "This is a gospel band, and not everyone is into gospel, they had everybody stop by; I mean, people were out on the sidewalks trying to squeeze in here because it doesn't matter if it's gospel, or not. They're like 'Oh yeah I wanna go and be a part of that.' It's brought everybody together."
Bishop Fred Jones, patriarch of the Jones Family Singers, also emphasized the sense of community that had taken over the venue during the performance. 
"I would like to say, from the heart, that this was one of the best experiences we as musicians, gospel musicians, artists as well, could embrace," Jones said. "People came from all over town. They were walking by, raptured in by the music, by the spirit of the music, came on in and participated."
"Austin is the place to be if you want to really get down and enjoy some great gospel music," he continued. "Austin is the place to be because there's no prejudice, there's no funny feeling. Everybody enjoyed everybody, and I'm looking forward to coming back."
Fashion was also a significant element during day one of the festival. Performers from the Jones Family Singers wore and sold bedazzled accessories. Their shirts paid tribute to their late beloved brother Shawn Jones, the group's original bass player. 
Prayer is vital for the Moriah Sisters when preparing for a gospel show. Strong family ties, spiritual connection and fashion bring a sense of purpose to each performance.
"First and foremost, we always pray," Janice Lee of the Moriah Sisters said. "We have to make sure that our minds are all together, our hearts, spirits, you know, that we're just jelling so that when we do sing, because we are a gospel group, we're on the right page and that we can convey a message to God's people."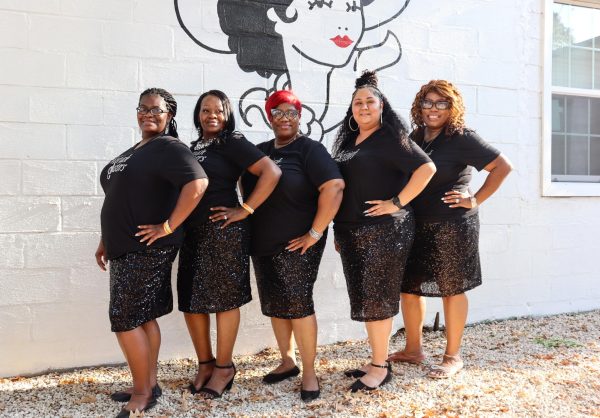 There's a certain sense of duty and responsibility in preserving the festival. The Moriah Sisters hope to see more and more people taking an interest in Eastside Kings Fest. 
"Our duty is to keep Mr. Eddie Stout's vision alive," Lee said. "The fact that he has every genre, you know blues, gospel, everybody can get a part. We are in the 'Live Music Capital of the World,' so being able to get every genre is easy to do here in Austin. I commend Mr. Stout for allowing us a platform to sing gospel music. It's a mini SXSW but on a blues level; I see this getting bigger and bigger."
Festival attendee Jasmine Peters emphasizes the importance of experiencing Eastside Kings Fest.  
"I've been coming here since, I think, 2016 consecutively every year," Peters said. "It means a lot to me 'cause this music is my favorite type of music, and a lot of the people are, I hate to say, kind of dying off. So it means a lot to be able to experience them."
Peters feels a sense of bittersweet hope about the future of the festival. She noted how, every year, attendance shrinks, primarily through the COVID-19 pandemic. Awareness of these community events and the benefits of having more recognition of these festivals is essential to the community's growth and cultural resilience. 
"I mean, I guess it's kind of bittersweet, but it's mostly bitter because I feel like a lot of the culture and community is disappearing, and you don't get to experience it," Peters said. "All the new people coming out don't get to experience this, and I think this is really important. Every year, it gets smaller and smaller, and it's kind of heartbreaking that there aren't more people that wanna come out here and help it grow and help it stay alive." 
At a vibrant crossroads of history, music and community, Eastside Kings Festival is a testament to Austin's rich cultural tapestry. Day one of the festival unveiled a melange of emotions, from the spirited commitment of the Moriah Sisters to poignant reflections from festival staff and attendees. Amidst the celebration, there was an underlying narrative of preservation and continuity, a call to action for keeping such events alive and revitalizing Austin as the world's live music capital. 

Day two: Keeping the party alive and well
Following day one's excitement was yet another full day of the historical celebration of rhythm and blues of East Austin. Upon arrival, mesquite wood and smoked meats from Archie's BBQ, a cherry red food truck perched at the entrance of venue number one, El Tigre, wafted under attendees' noses as it welcomed them to the admissions booth.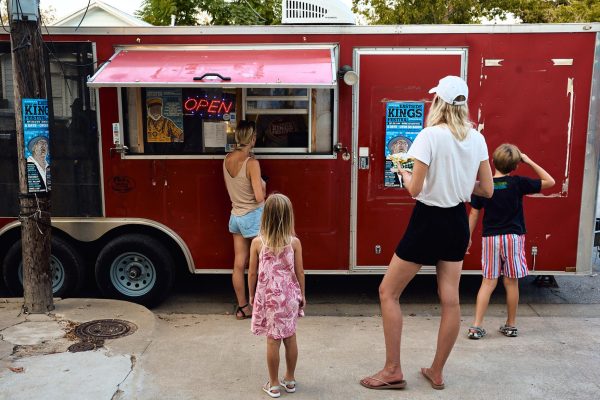 In this quaint courtyard tucked inside this vastly changing historic district, people gather to enjoy Matthew Robinson's husky vocals, Harold Mcmillan's throaty bass and backing guitarist Mike Keller, whose fingers could slide across a fretboard like butter.
Robinson was born in 1948 in Austin. While in high school, he performed with his first band, The Mustangs. Today, he is still helping keep the Eastside music scene alive through his bluesy storytelling and tap-your-foot melodies. 
The atmosphere was the perfect mix of exuberance and ambience; the crowd swayed and let-loose to Robinson's sultry blues as he sang of times of need and the sting of love lost. His vocals harmonized with the resounding, chest-filling thump of McMillan's bass, while Keller's guitar strummed along as he carried the audience through multiple solos effortlessly.
Young families frequented the spot, with several toddlers dancing to the tunes and saying "hello" to the artists after the show. As a body of strangers sat together to enjoy a beautiful Sunday full of music and fun, a clash of generations unfolded as old and young embraced the rooted sounds of the Eastside.
Harold McMillan, non-profit organizer for East Austin Creatives Coalition, shared his efforts in preserving East Austin's cultural history and abundant musicology. 
"This festival, I think, is important to continue because it's bringing this music back into the neighborhood that spawned this music in Austin," McMillan said. "East 12th and 11th Street, East Seventh Street, and some other places in this district were where you could listen to jazz and blues in Austin during Jim Crow days. You couldn't find it downtown. Because they didn't want us downtown, you know?"
Through his work as founder and director of Diverse Arts, an organization dedicated to the long-term development of Austin's African American Cultural Heritage District, McMillan had a lot of insight into how Austin has changed over the years.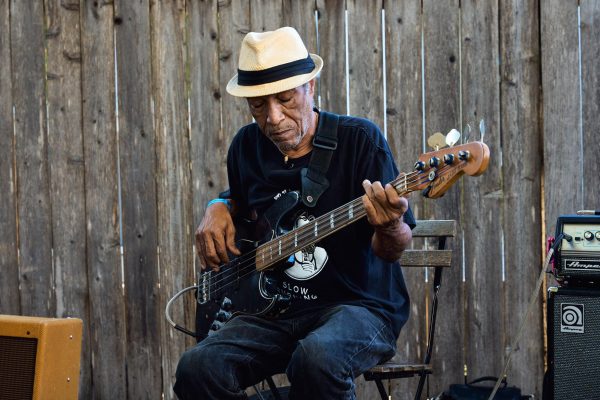 "So the fight I've been engaged in for twenty years is getting this district designated and taken seriously," McMillan said. "The city designated this a historic district in 2007, and I launched a campaign to put it back in their face four or five years ago. I wrote a resolution that said we are at this point now because you didn't do what you said you would do all these years. That resolution got accepted in September of 2021. So, I'm engaged in holding the city accountable for the action items on the resolution because they're still sitting on their hands."
As of today, the African American Cultural Heritage District still does not show up on any official city map. It was designated in 2007, as McMillan stated. Without these preservation efforts, East Austin is left vulnerable to the development that has pushed so many native Austinites from their homes.
"What I would like for young folks to know, across disciplines, is this is cool work…there are streets in this neighborhood that should be historic sub-districts because of the history of the houses there," McMillan said. "There are iconic houses that should have historic markers. More contemporary, there are tens if not hundreds of really cool mural sights around the neighborhood that need to be photographed and mapped."
McMillan is always looking for students, of various backgrounds and disciplines, to intern with him at his foundation, East Austin Creatives, to better understand the cultural aspects, ties and musicology of the historic district. 
Towards the end of night, iconic soul singer Stan Mosley, with crew in tow, performed at Station Recovery Community Center. Born in Chicago, Mosley was brought up in the church and filled its corridors with his harmonious, spell-bounding voice. After starting his career in 1969, he started performing with groups such as The Sharpees and The Company. 
Shortly after, he set forth in pursuit of a solo career. Having performed in venues nationwide within his 46 years of experience as a soul singer, Mosley knew how to demand attention at center stage. 
The patio was lit up by Mosley's electric performance and immediate stage presence as he jived to the beat. His charisma had the audience mesmerized like flies to a light, and in addition to his allure was his innate sense of fashion. His stark white boots matched his pearly-white flared pants that accompanied a sprawling damask-like pattern along his iridescent cobalt shirt. 
Mosley's fashion stood out under the bright blue lights of the patio. His jewelry featured a diamond encrusted watch, rings and chain with a diamond microphone pendant glistening in the lights. The crowd was enamored with Mosley's singing as he belted out notes with ease and bravado, keeping the crowd engaged as he told them many times to take their moves to the dance floor.
Stan Mosley sings with swagger and passion as he captivates the audience with his voice and dazzling jewelry. (Kennady Basdekis-Morin / Hilltop Views)
People rejoiced and shimmied to the swank sounds of Mosley's gospel tunes as the night continued. It was a joining of various individuals from all different walks of life, representing how blues doesn't discriminate: once the bug has bit you it is hard to keep from tapping your foot and shaking your hips.  The festival has plans to make way once more in the historic end of the Eastside come next September and looks forward to welcoming a new set of blues, gospel and jazz artists, enthusiast and people just looking to have a good time while cultivating a community built upon the camaraderie of what it means to getting back to the roots.