Cue 'Sweet Caroline': Men's soccer advance to Sweet 16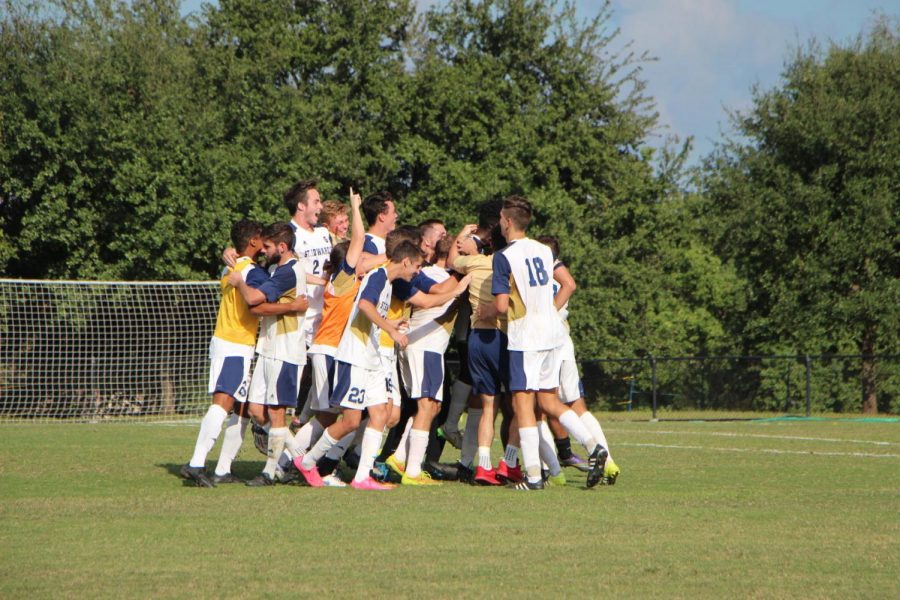 Amanda Gonzalez
November 14, 2016
After a fast-paced game in the second round of the NCAA Tournament, the St. Edward's University men's soccer team won their first-ever playoff game and is advancing to the Sweet 16.
The No. 1 seeded Hilltoppers will be traveling to San Diego, California to take on No. 2 Midwestern State University on Friday at 6 p.m. in the NCAA Regional final. The winning team will be crowned South Central Region champions and will move onto the Elite Eight round.
The last time the teams faced off was in the Heartland Conference Championship on Nov. 6, where St. Edward's won 2-0. Before that, Midwestern handed St. Edward's an unexpected 0-1 loss on Oct. 20.
"Midwestern State is an athletic team that is explosive on offense and can score at any point in the match," Head Coach Brian Young said.
Looking for early goals will be pivotal. The team needs to play aggressively with good ball movement, the way they did in the conference championship game.
The Sweet 16 round is the furthest the St. Edward's men's soccer program has ever reached. In 2014, the team qualified to this round of the NCAA DII National Tournament and were eliminated with a 1-2 loss.
Young said that while the team is in the Golden State, they will focus on soccer training and studying, but plan to make time to see the ocean. If the team wins the Sweet 16 match, they could spend more time on the West Coast for the next playoff round.
In order to get to the Sweet 16, No. 1 St. Edward's first had to defeat No. 4 Regis University of Colorado. These teams are nationally-ranked at No. 7 and No. 23.
Since the Hilltoppers boasted the highest record in the region, they had the opportunity to host. This was the first playoff game to ever take place at St. Edward's, and there were 408 people in attendance.
"The home field advantage is great for our guys to be able to play in front of their own fans," Athletic Director Debbie Taylor said. "It's always an honor to host the NCAA."
Both teams' defenses did a good job keeping the game scoreless throughout the game. With less than five minutes left in the game, both teams were eager for a golden goal. Regis had multiple defenders covering senior midfielder Josh Taylor, leaving senior midfielder Steve Aoudou alone in the box.
Aoudou seized the opportunity and swiftly scored winning goal in 86th minute with an assist from sophomore forward Dylan Armstrong. Premature celebrations began, as the Hilltoppers had a 1-0 lead in the final minutes.
Once St. Edward's officially won, the team huddled together cheerfully and the victory song 'Sweet Caroline' started playing. Regis finished their season with a 14-5-1 record, as St. Edward's extends theirs to 18-2-1.
"We've gone to playoffs the past two years and the result hasn't gone our way," Aoudou said, after his game-winning goal. "So we worked hard this game and are hoping for a better result. We just have to keep fighting."