Volleyball sweeps in regular season finale, advance to conference tournament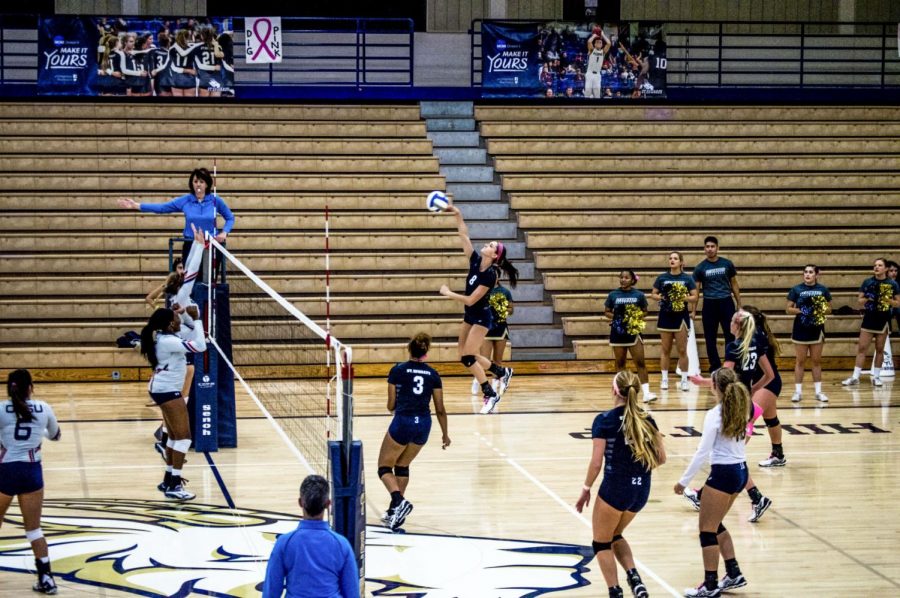 Amanda Gonzalez
November 15, 2016
With a commanding 3-0 sweep in the regular season finale Nov. 12, the St. Edward's volleyball team clinched a tie for the third seed heading into the Heartland Conference Tournament.
In just her second season as St. Edward's head coach, Mary De Jute has led the Hilltoppers to an 11-17 overall record and a 9-5 Heartland Conference record. A preseason poll predicted the team would finish sixth — not third.
Offensive team leaders in multiple categories include outside hitters: Maty McClurg, Alexa McAndrew, Katie Martin and Katie Hendrix.
Defensively, libero Morgan Beckham has anchored the Hilltoppers, and was recently named HERO of the Week Nov. 7. The 5-foot-9 sophomore has a 6.41 digs average, which is the second highest in the nation.
The team's most recent win came against Dallas Baptist University. St. Edward's is now tied for third with Newman University in conference standings, but a plus-four point overall differential gives SEU a slightly higher nod.
No. 3 St. Edward's will play No. 2 Lubbock Christian University Friday at 7:30 p.m. in Fort Smith, Arkansas.
On Oct. 6, the Hilltoppers won 3-2, but most recently Nov. 5, Lubbock Christian swept 3-0.
This time, the winning team will advance to the conference championship.