Student reflects on authors' emotional immigration stories at Texas Book Festival
Living in the United States as an undocumented immigrant means living in constant fear that, at any second, everything can be taken away.
On Nov. 5, authors Julissa Arce and Diane Guerrero spoke about just that in their panel for the Austin American-Statesman's ¡Ahora Si! Tent at the annual Texas Book Festival.
Arce, author of "My Underground American Dream," spoke about hiding her immigration status from almost everyone, including her closest friends, in fear of what they would think of her.
In fact, she told very few people until she publicly came out about her undocumented status in an article for Bloomberg.
Arce recalls how anxious she was for the article to be published. It was not easy to share such a big part of her life that she had kept secret for so long.
"I called all my coworkers the previous day to let them know," she said.
Guerrero, author of "In the Country we Love: My Family Divided," on the other hand, was born an American citizen, but lived her worst nightmare when she was only 14 and returned home from school to find that her parents had been deported. She was able to stay in the states because of the generosity of a family friend who took her in.
Both women have lived two very different lives, yet their choices were defined by one common fear. Arce became the Vice President at Goldman Sachs and Guerrero landed a role in the Netflix original show "Orange is the New Black." That same fear led them to massive platforms that they now use to advocate for a better immigration system in the US.
I am very grateful for their advocacy. I was privileged enough to be born here, but I do have relatives who are undocumented. Much like Arce, they came to this country with working Visas, stayed and could not do much after the Visa expired. They are law-abiding citizens who work hard everyday and live in constant fear of being sent back to a country where they have nothing.
Last December, while many students enjoyed sleeping in until noon or vacationing with family, I visited an immigration lawyer with my aunt. I nearly broke down crying for her in that office just listening to every little detail she needed to remember in order to apply for her residency.
Now, as my mom applies for her citizenship after twenty-some years of being a permanent resident, I cannot help but feel that fear creep up again.
I know that the chances of her being deported, even if she is denied citizenship, are slim, but her whole life is here and I could not bare to see her taken away from me.
Arce and Guerrero give me hope.
I once was ashamed to tell anyone that I have undocumented relatives or even that I am a migrant because I never felt represented.
It is still scary to speak out about such things because there is so much racism towards undocumented immigrants it is difficult to project how someone will respond, but these two women have helped me embrace it with their advocacy.
When Guerrero was asked about how she deals with the negativity towards undocumented immigrants her answer was simple.
"I just don't care anymore," she said. "I'm just going to push on and be just as loud, but in a positive way."
I am still working on my courage to be just as loud, but Arce and Guerrero are two of the many women who inspire me to be louder each day.
About the Contributor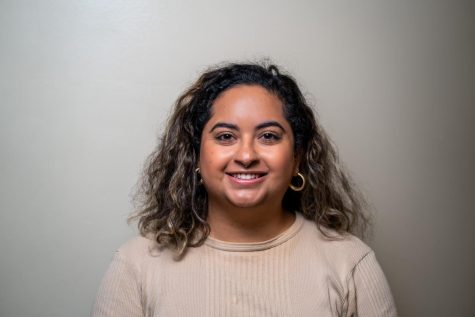 Myrka Moreno, Social Media Editor
I am Myrka Moreno - Digital Media Management, Journalism minor and Social Media Editor at Hilltop Views. This is my senior year at St. Edward's University....