When money can't buy class: Farrah vs. Nicki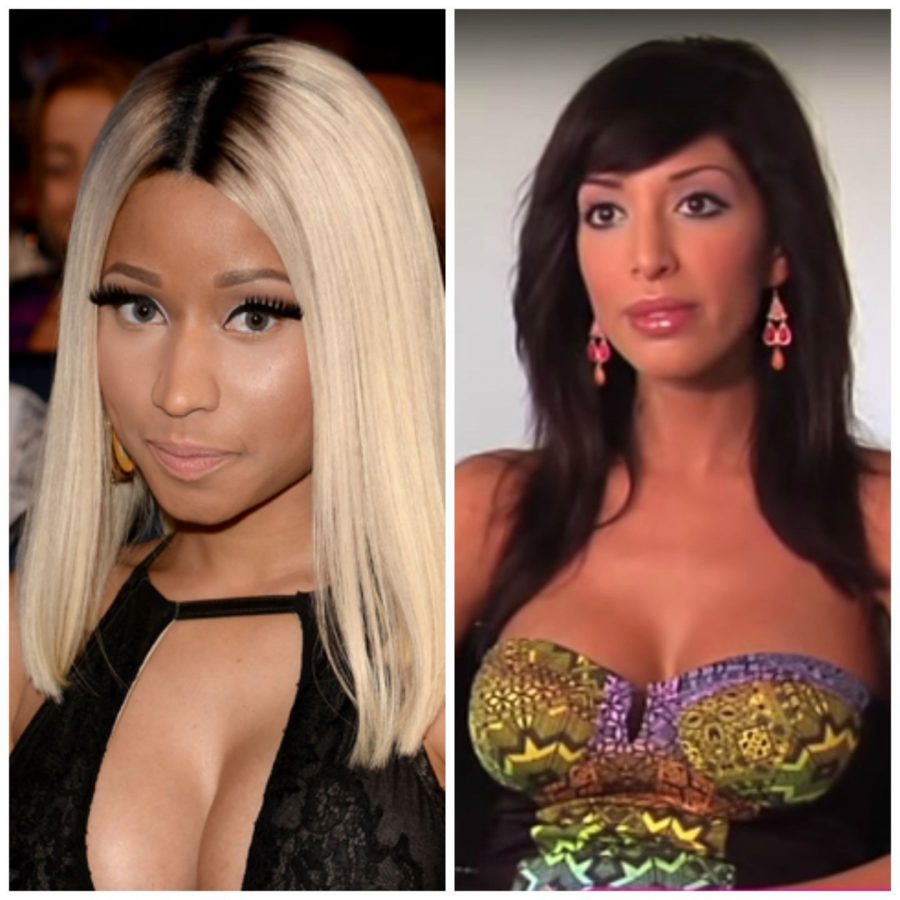 Bianca Esquivel
January 22, 2016
A few days ago, Twitter witnessed an interesting conversation between rapper Nicki Minaj and MTV reality star, Farrah Abraham. The two engaged in a pretty nasty — yet insanely entertaining — Twitter war.
Farrah is one of the four "Teen Moms" on the newest season of the MTV hit show, Teen Mom Original Girls (OG). So far this season Farrah has been responsible for keeping the drama levels to a maximum.
In many of the episodes, Farrah is seen being totally cruel and disrespectful towards her mother, Debra, degrading her in front of the cameras. Fans and non-fans of the show are pretty angry with Farrah for this, and to everyone's surprise, so is Nicki Minaj.
Farrah is definitely not on my list of favorite people, but after reading all the unpleasant tweets Nicki and her loyal followers shot at her, I couldn't help but feel sorry for Farrah, even if she also had a lot to say about Nicki.
It all began when Nicki, after watching reruns of the show's episodes, tweeted, "Farrah is a c— to her mother." 
Farrah fired back by tweeting, "Cause your a parent right? Your videos look like porn Horrible good luck being negative #Godbless busy making TV." 
Of course, Nicki took another shot at Farrah, tweeting, "Your mother didn't open her legs and have that child. Be happy she's helping! Stop talking to her like that on tv u lil C—"
Farrah even brought Sophia, her six-year-old daughter, into the mess. In a Snapchat video, Sophia called Nicki Minaj "a total loser." This just goes to show what a fantastic example Farrah is setting for her daughter.
Although there were supporters on both sides of the argument, viewers  sat with their mouths wide open as they turned their heads left and right to see what bomb these two would throw at each other next.
Everyone knows Nicki Minaj has a history of sharing a piece of her mind. She's had public feuds with many big name celebrities including Miley Cyrus and Taylor Swift, but it is almost absurd how much attention this twitter feud has received. Even other MTV stars like model Chrissy Teigen ("Snack Off"), Amber Portwood ("Teen Mom OG"), and Jemmye Carroll ("The Challenge") are amused, having taken the time to make comments.
Teigen tweeted out, "Nicki Minaj vs Farrah Abraham is not something I knew I wanted so badly before." I think the rest of the world could also agree on that.
Since the feud broke out, Farrah has been getting lots of attention. By the looks of her twitter account now, she's definitely taking advantage of the limelight by retweeting pretty much every article out there that has her name next to Nicki's. As for Nicki, it is wrong of her for not being mindful of the impact her words can make.
With over 20 million followers on Twitter, she wields the power to influence a great number of people, and what she is showing them now is that calling others out on social media is okay, which is most definitely not okay!
As for who won this Twitter war, I think it is safe to say everyone involved came out losing. Something about all the hate and vilification towards each made me think about the impact it could have on others.
There's no glory in publicly insulting and attacking one another and this is definitely not the example I would want young girls and boys to look to. Though this may be funny for many people, I still think it's cyberbullying, especially when the fans begin taking sides and joining in on the insults.
So the moral of this story is quite clear: Be careful what you say online because someone WILL read it and be influenced by it. Remember that words do hurt, no matter how true or false they may be.