Hall Olympics end with Dujarie Jaguars victorious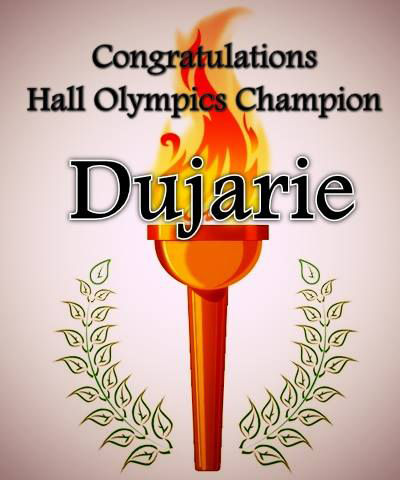 This year's Hall Olympics proved to be an exciting week of fun and games to crown this year's victor, the Dujarie Jaguars.
The intense, week-long competition is hosted by the Residential Programming Board (RPB). The first event kicked off with a win for Teresa Hall in the inner tube water polo tournament, with Basil Moreau Hall (BMH) coming in second.
Even with a second-place finish, BMH resident Natalia Norris still had fun cheering on her hall.
"The atmosphere was so fun and everyone was so pumped up," Norris said. "It was a good way to start off the week."
However, day two of the Olympics seemed to establish Dujarie's supremacy, as they won in both community attendance at the Blue and Gold Series game and team narrowly edged out the commuter team by one point in trivia.
With three events on Day three, the competition was still up for grabs by any hall, and the Teresa Tigers took the opportunity to take the lead. Winning in both UNO and FIFA games, the Tigers came out on top in the mid-week standings.
Day four had ping-pong and pool tournaments, where each hall had one representative for the competition. Rodrigo Paiz of Dujarie put the Jaguars back on the top with his victory in the Ping-Pong tournament, while Sam O'Donnell's win in pool helped put the Casa Cardinals into contention.
With only one day left in the competition, each hall was left on edge waiting on results from the Scavenger Hunt, Baking Contest, and Artistic Mascot Representation events.
Due to inclement weather, the sand volleyball tournament scheduled for day five had to be cancelled, taking away what could have been a key event win for second and third placed halls, Teresa, BMH.
The Village was able to creep their way up from the bottom with wins in the Scavenger Hunt and Baking Contest, but not enough to claim a spot in the top three.
With their win in the artistic mascot representation, Teresa Hall also pushed their way to the top and even gave first-placed Dujarie a scare. However, it was not enough in the final standings, as they finished just three points behind in second place.
Even with Dujarie claiming the title for the Hall Olympics, all participants were able to enjoy the week.
"It was really cool to be a part of the events because they were fun and brought each hall together," Teresa Hall resident Ben Cook said.
While the Hall Olympics may have brought together each residence hall, Dujarie Resident Assistant Brittany Buccolo believes it was the already established bond of the Jaguars that led to Dujarie's victory.
"Everybody knows everybody and everyone is friendly, so we had a lot of support at each of the events," she said.