Athletics prospering under Taylor's balanced leadership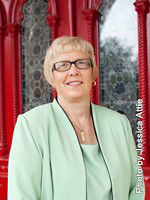 St. Edward's University currently has 11 varsity sports teams, with two more expected next year. Athletic Director Debbie Taylor is the one in charge of it all.
Taylor has been part of the St. Edward's team for nearly 25 years, developing her own leadership philosophy.
"I have known Debbie for the past 10 years and she wholeheartedly believes in and embraces the mission of St. Edward's," Associate Athletic Director Melinda Terry said.
Taylor arrived on the Hilltop in 1990, when she was hired as the head volleyball coach and the Director of Intramurals. She would coach 12 seasons and devoted the majority of her time to her students.
"My biggest priority when I approach my job is students' well-being," Taylor said.
In 1995, Taylor was appointed as the Associate Athletic Director, becoming a full-time faculty member, and would later be promoted to Athletic Director in 2002. Stretching far beyond volleyball, Taylor's leadership philosophy was now on display in how she ran the athletic department.
"Debbie a person of such high standards for both herself and her staff," Terry said. "Every decision that she makes is based on what is best for the students."
As Athletic Director, Taylor's duties include overseeing the overall operation of the athletic department, dictating a budget for hiring staff and ensuring all policies and procedures are met.
Since becoming a member of NCAA Division II in 1999, St. Edward's has captured 48 Heartland Conference titles, advanced to the NCAA Tournament 59 times, produced 52 All-Americans and 38 Academic All-Americans.
"I lead my staff just how I used to run my team," Taylor said. "I have (an) open door policy and choose people who can work with me, not for me."
In 2011-12, St. Edward's ranked 35th out of over 300 schools in the Learfield Sports Directors Cup, which rates postseason performance. Its student athletes also had an 82% federal graduation rate, which was seventh highest in Division II.
St. Edward's also sent eight of their 11 teams to the NCAA tournament, and was the only school in the country in all divisions to have all of their spring sports programs qualify for the postseason.
The key to this success seems to be from Taylor's selflessness according to some.
"Debbie is a very supportive leader," Terry said. "Leadership for her is less about her needs and more about the needs of her staff and the university."
With the athletic department growing, its faculty members are excited about what the future holds, and wholeheartedly believe they have the right woman leading the way.