Graduate wins SXSW Grand Jury Award for 'Fort Tilden'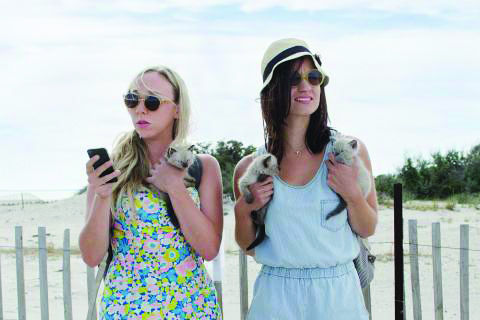 For many people, the idea of choosing a career they can stick to forever can be an intimidating feat. But for Charles Rogers, who graduated from St. Edward's University in 2009, choosing a career always felt natural.
"I always knew. I've always wanted to be a writer, director, filmmaker. If anything, going to college, going to St. Ed's, was an opportunity to explore all of the elements filmmaking encompasses. All of the elements of filmmaking I loved, so why wouldn't I want to be that?" Rogers said.
Following St. Edward's, Rogers attended graduate film school at New York University. Rogers' most recent project, a film he co-wrote and co-directed with Sarah-Violet Bliss, won the Grand Jury Award at this year's 2014 SXSW film festival. "Fort Tilden" is a film about two 20-something-year-old girls trying to make their way to the beach at Fort Tilden, while encountering several obstacles in the process. It is a relatable comedy with dialect that feels awfully modern and familiar.
"You have to start with an idea that you believe in. If you don't love your idea, you're not going to love your life. It really starts with that," Rogers said regarding the first step in filmmaking.
Rogers has previously written short films, but "Fort Tilden" was his first feature film.
"The movie, at its core, is about the age where you realize your decisions have consequences and that you have to take ownership of those consequences," Rogers said.
Although "Fort Tilden" is a modern comedy that could easily be lumped with the recent wave of relatable 20-something plot lines, it's not quite just that. The main characters, Allie and Harper, mirror the typical post-graduate characters trying to make it in the real world, but the film takes a different direction as they discover things about themselves and each other all while trying to make it to the beach.
"It is a funny movie because some very silly things happen to them, but at the same time, those silly things have to hit home and mean something to them. It isn't like many films in the genre, because we never set out to make a film that by the end of the story, wedding bells were ringing," Rogers said.
As for winning the Grand Jury Award, Rogers describes the experience as exhilarating, amazing and overwhelming.
"I think I went a little bit crazy. At one point, I just had the thought, 'I need to start a family now,'" Rogers said.
Following the success of "Fort Tilden," Rogers plans to move to Los Angeles alongside Bliss to work on some upcoming projects. They are working on projects together and separately, among them an idea for a tv show which they both feel passionately about.