Koenig leading the offensive charge for Hilltopper baseball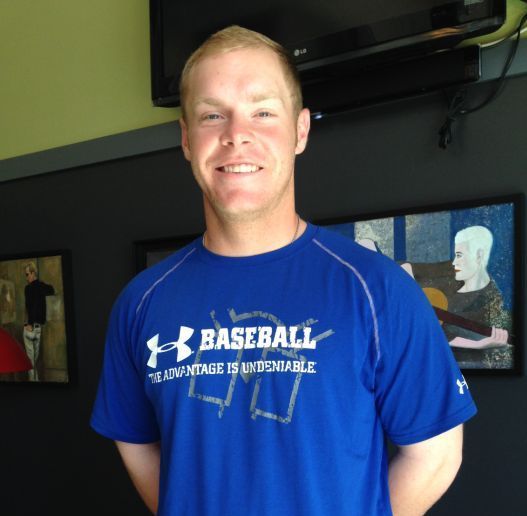 Hang on for a minute...we're trying to find some more stories you might like.
Senior Wesley Koenig, first baseman for the St. Edward's men's baseball team, currently leads the Hilltoppers in numerous offensive categories, including batting average, runs batted in (RBIs) and home runs. 
The former First-Team All-Heartland Conference player was named the Heartland Conference Hitter of the Week for the week of April 7-13, the first of his St. Edward's career.
"Wes has been an integral part of our success this season by providing consistent at bats in the middle of our lineup. He has an infectious positive attitude that his teammates feed off of. He always is upbeat and ready to practice or play," head coach Rob Penders said.
Koenig was spectacular against rival St. Mary's, going 10-14 at the plate, nine RBI's, and hitting two home runs in a three game series. In the same series he also completed a 1.142 slugging percentage and an OBP (On Base Percentage) of .714. With his impressive performance, Koenig helped propel the Hilltoppers to first in the conference.
Koenig missed most of the second half of last year due to a broken wrist, but he believes that his injury spurred him on even more this season to do bigger and better things on the field. He also hails the depth of the squad, particularly the younger players.
"We have a bunch of seniors so we want to give everything because you don't know when it's going to be your last game," he said. "We have had some important players get hurt but the freshman have really stepped in and played a big role."
Things started off rough for the baseball team following their successful season last year, but they have since regrouped. They are now refocused and ready to finish strong.
"At the beginning of the year we ran across some rough patches because we were thinking about the big goal rather than doing the little things to get to the big goal," Koenig said. "Since then we have been doing everything that we can possible to win ball games."
Like Koenig, the team's goal for the rest of the season is to win the conference title and make it to the College World Series in May for the second consecutive year.
"It's my senior year, so I've just been having fun and doing whatever I can to help the team," Koenig said. "One thing coach has stressed is playing as a team and not individuals. I think we are finally starting to understand what that feels like and actually means."