Pirates, Brewers fight after Gomez admires long hit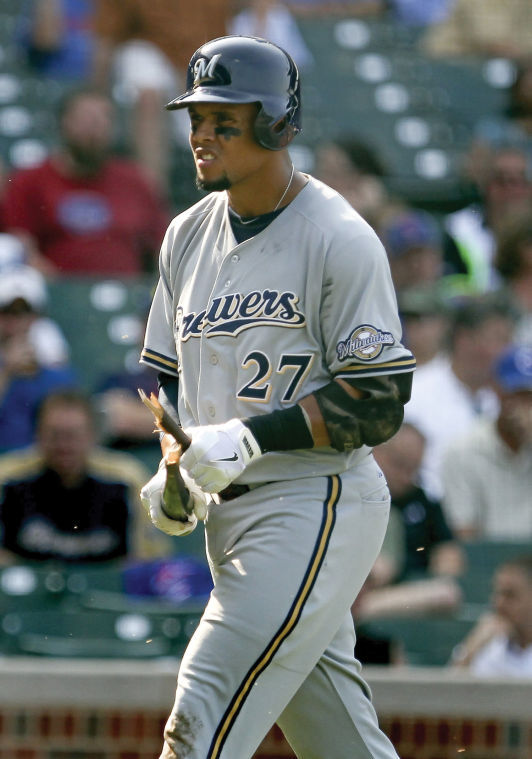 Sports Editor
April 21, 2014
An Easter Sunday game between the Milwaukee Brewers and Pittsburgh Pirates quickly turned into fight night at PNC Park. The action all started in the third inning when Carlos Gomez came up to bat. With two outs, Gomez smacked the baseball to deep center field. Immediately after making contact with the ball, Gomez flipped his bat and started his homerun trot toward first base.
However, the ball didn't leave the yard, but hit the outfield wall and ricocheted back into the field of play. Pirates centerfielder Andrew McCutchen fell down attempting to make the catch, allowing Gomez to advance to extra bases. When Gomez realized the ball was not a homerun, he quickly turned on the jets and slid into third with a triple. While getting up, he and Pirates pitcher Gerrit Cole exchanged heated words.
Third base umpire Jim Reynolds intervened, getting in between the two men, but at that point both benches had emptied. It quickly escalated to a full-scale brawl when Pittsburgh's Travis Snider came up to Gomez. Both men exchanged punches, and Snider knocked Gomez to the dirt. Shortly after, Martin Maldonado landed a solid punch on Gomez before he was taken to the ground. Cooler heads would prevail, and Gomez, Snider and Brewers bench coach Jerry Narron were all ejected.
This is not Gomez's first physical incident after getting a great hit. Last September 25, Gomez exchanged words with Atlanta Brave's first baseman Freddie Freeman and pitcher Paul Maholm. Braves catcher Brian McCann confronted him, and a brawl quickly ensued. On April 1, in another game against the Braves, Gomez sprinted ridiculously fast around the bases after hitting a homerun.
Because Gomez has been involved in numerous incidents, expect a large fine and even a suspension to be handed down. There is no word yet if any other players involved in the brawl will be disciplined. The Brewers next play the Pirates stating a three game series on May 13.
Below is a link to the video of the brawl.
http://mlb.mlb.com/news/article/mlb/benches-clear-in-brewers-pirates-finale?ymd=20140420&content_id=72756810&vkey=news_mlb