Comfort, fashion finally collaborate in "normcore" trend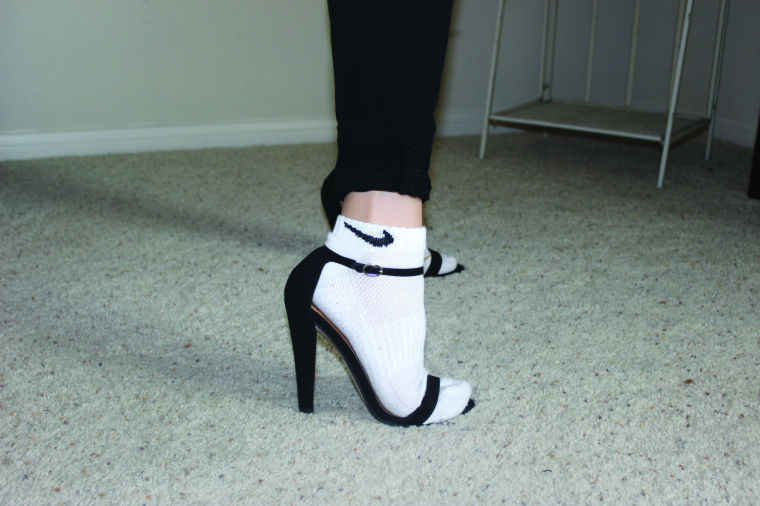 Staff Writer
March 20, 2014
In an ever-changing fashion world, reporter Katie Brown keeps an eye on trends from New York to Paris to St. Edward's  and writes about them here.
I have recently been looking to my younger self for fashion inspiration. 
The good ol' days when I would slap on anything and everything I wanted to wear that day and did not think twice about matching or what others thought. After all, is that not how we should live everyday? Being comfortable and carefree – oh the nostalgia.
In elementary school, I was really into the "tomboy" look. I put that word in quotations because I do not particularly like the term, and I was just more into athletics than other girls my age. While I loved sports, hanging with the boys and P.E., I would also sneak into the bathroom to slap on my strawberry flavored Lip Smacker lip gloss and wore my mom's old navy-colored mascara, which I now realize is extremely gross. My most memorable pair of pants were sporty, swishy wind pants from Limited Too (duh) that zipped at mid-thigh and mid-calf so that I could choose to wear shorts, pants or capris. Those were of course my P.E. day pants, and really helped me completely rule at capture the flag, lipgloss safely secured in pocket.
Sure, 6th graders can do it, but who said an adult cannot mix sporty and chic without looking like a fool? Until recently, wearing tennis shoes with anything other than your workout gear may have turned heads in confusion, but now it is being done while still keeping a look fashionable. Yep, you heard me; Nike and Adidas are no longer only for your weekend intramural game.
Walking the streets of fashionable cities like Los Angeles, New York City and even in our own backyard, more and more people are being spotted mixing their clothing with Nike socks, Patagonia windbreakers and baseball caps. I've been seeing this trend here and there for the past couple of months, but it was not until I visited my sister in Chicago over the break that I first heard the word – normcore. This is the term for a trend happening among us young folk that mixes brands (mostly sporty brands) with usual every day clothing using comfortable basics as the focus. "Old dad clothes" is how my sister described the trend, which may be true and is also pretty hilarious. 
However, it is quite refreshing to see this sort of movement that, arguably, suspends judgments and prevents others from knowing who you are or what group you may belong to.
But then again, is normcore yet another trend dividing people into groups? Probably. But hey, as long as I can be comfortable and fashionable at the same time, I am all for it.