Oscar night included pizza, selfies and statues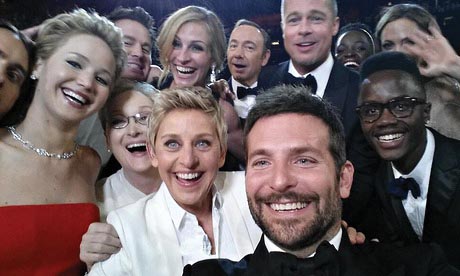 Hang on for a minute...we're trying to find some more stories you might like.
Yes, Jennifer Lawrence fell again. She is a little clumsy, but is that not endearing? Besides, more important things happened at the 86th Annual Academy Awards Ceremony, otherwise known as the 2014 Oscars to everyone not in Hollywood.
There were many great moments created by host Ellen DeGeneres. She broke Twitter with the best selfie to ever hit the internet, which included Jared Leto, Jennifer Lawrence, Channing Tatum, Meryl Streep, Julia Roberts, Kevin Spacey, Bradley Cooper, Brad Pitt, Angelina Jolie, Lupita Nyong'o, Lupita's brother Peter Nyong'o and DeGeneres herself. With Ellen's help, we discovered just how generous some celebrities are when it came to tipping the pizza delivery man. Brad Pitt gave a $20 tip, which seems cheap, but he has six kids, so all is forgiven.
The three-hour show consisted of its usual awkward banter before presentations, but Jamie Foxx and Jessica Biel's dialogue prior to handing out the Oscar for Best Original Score to "Gravity" was phenomenal. Foxx provided excellent background music as Biel read the power of musical notes in a film.
Audiences may have altogether ignored the other banter and instead looked at Oscars fashion. The stars definitely came out to shine; there were a lot of sparkly dresses at the Oscars this year. Angelina Jolie wore a beaded beauty, Anne Hathaway wore a silver plated dress and Jennifer Garner had shiny fringes for days.
But there is no Oscar for best dressed, though there is a Best Costume Design, which went to Catherine Martin who worked on "The Great Gatsby," so on to the real winners of the night. "Gravity" was the big winner this year, taking home seven golden statues in categories such as Best Director and Best Cinematography. 
Though eyes rolled as the Oscars became the "Gravity" show, the space film did not win the biggest award of the night. 
The Academy Award for Best Picture went to "12 Years a Slave." The movie also had another win as Lupita Nyong'o took home the Academy Award for Best Actress in a Supporting Role.
The show is not only about recognition, but also remembering the great talents that have graced movie screens throughout time. Whoopi Goldberg donned a pair of red ruby slippers to honor the life of Judy Garland. Philip Seymour Hoffman and Peter O'Toole were two of the many celebrities that were honored last night.
All in all the 2014 Oscars were a success. Ellen DeGeneres kept the audience's attention with her usual charm. Many celebrities reaffirmed that they are not the serial killers and psychopaths that they play in films. We survived Hollywood's biggest night and only nodded off a few times.