New science building unfair to non-science majors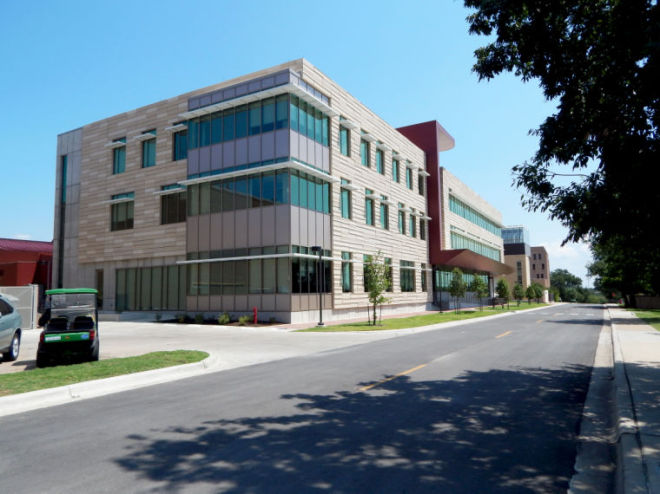 Staff Writer
September 25, 2013
St. Edward's University is quickly changing and growing.
This semester the John Brooks Williams South building opened its doors to the expanding science department and other students, but not all students.
The new building contains 20 classrooms including the auditorium and 36 offices. According to the Facilities Department, the construction cost to date is $15.9 million.
While the building is beautiful, other departments on campus are jealous.
Annie Dore, Senior Criminology major, thinks that there is some imbalance for the other majors.
"We all pay the same tuition. It's not like the science kids are paying more. We, however, do have to pay for the newest technology," Dore said.
In comparison with other departments, however, there is no competition.
Dore remembers her first day on campus in 2011 and how surprised she was when she saw the size of the music department building.
"I would really like to see the music program expanded and have better facilities and have better equipment. However, all of the other construction probably sapped up the budget," Dore said.
St. Edward's is known as a liberal arts university, and not only is the music building small, St. Edward's doesn't even offer a music degree.
Some of the heart of the liberal arts appeal towards St. Edward's was taken away with the increase in funding and size of our science program. When a building like Moody is still around and every single major uses that building, you can see where the priorities lie.
It is understandable that the science department needs to remain updated with new technology, but doesn't the art and photography department deserve that as well?
What about having a rhetoric class in a room that actually has windows?
While some may be frustrated with St Edward's becoming more focused on the science departments, others are surprisingly excited. 
Emily Wright, an English Literature major, is thankful for the new science building and science course requirements at St. Edwards.
"Most of my friends are humanities majors and are upset about science requirements. If I hadn't taken those classes I wouldn't have known that I was good at science, and now I am thinking about nursing school," said Wright.
Although it is not required for her major, Wright continues to take science courses and will find herself in the new building for the next year or so.
For the future of St. Edward's campus, the 2015 plan brings on two more building changes: the UFCU Alumni gym and the Chapel.
The new library is seen as a great gift to the students, but the future construction plans are deemed unnecessary.
"I get that it's a religious school, but it's a school first," said Paulina Garate, Senior Communications major. "They should focus more on renovating things that are necessary for the students, like where they are learning."
However, this does not just apply to students either. The offices provided for most professors, like Andre Hall, are dilapidated at best. 
Wright is also concerned with the future of St. Edward's, specifically with its growing rate.
"There are 45 more biology students than there used to be. There are more people walking around, more people in our classes. If they are going to keep letting the freshmen class get bigger then we are going to have to expand," Wright said.
Even with a new building, it is very noticeable how much fuller classes are, and how many more people are on campus. Is the new science building being used to its full potential or is St. Edward's enrollment just larger than expected?