Aggressive recruiting pays off for Ole Miss, Alabama, Florida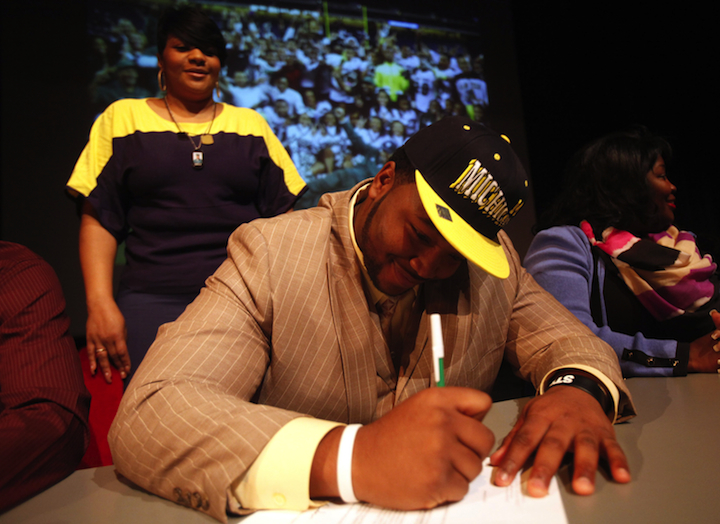 Reporter
February 13, 2013
National Signing Day for college football has come and gone, but its aftershocks are still being felt after Colonel Reb and the boys down in Oxford landed an unprecedented top five recruiting class. 
Rebels head coach Hugh Freeze, best known as the depicted high school coach of Baltimore Ravens right tackle Michael Oher in "The Blind Side," has pulled off a coup for the ages in his first full recruiting season at Ole Miss. 
His roster includes number one wide receiver Laquon Treadwell, number one offensive tackle Laremy Tunsil, number two safety Antonio Conner, and of course the grand prize, number two defensive end and number one overall prospect in the country Robert Nkemdiche.
Of course, one must question after an abysmal 13-24 record in its past three seasons, how exactly is Ole Miss going toe-to-toe with the Alabama and Louisiana State University of the world for the blue chip recruits? 
For Hugh Freeze, the explanation is simple. Aggressively pursue select prospects, regardless of location, that have connections to Ole Miss through family, school, coaches, etc. 
He exploited top recruit Robert Nkemdiche's brother, Denzel, who is a linebacker for the Rebels. Freeze's tactics have helped him outdo his recruiting-guru predecessors Ed Orgeron and David Cutcliffe, in just year two.
Looking elsewhere, Alabama claims the top recruiting class, again, after winning their third national championship in four years. The masses may depict Nick Saban as some kind of evil war lord, but the man can recruit like no other. Aside from the obligatory defensive juggernauts being brought in, the Crimson Tide score number one athlete Derrick Henry, two of the top 10 running backs, number two wide receiver Robert Foster, as well as some ripe O-line prospects to replace departing all-conference/American performers Barrett Jones, DJ Fluker, and Chance Warmack. Also interesting out of the Alabama camp was top inside linebacker recruit Reuben Foster initially committing to the Tide, then committing to Auburn and getting an Auburn tattoo, and then proceeding to recommit to Alabama following the firing of Gene Chizik. Foster sporting an Auburn tat in a Crimson Tide uniform this season will be interesting. 
Then there's Ohio State, who look poised to break the SEC national title win streak with the third ranked recruiting class. Following their 12-0 campaign in 2012, Urban Meyer and the Buckeyes maintain momentum with the Big Ten's top class, highlighted by signing four top 15 cornerback and safety prospects to add to a secondary boasting All-American corner Bradley Roby. Not to mention the hijacking of Oregon's star running back commit Dontre Wilson following Chip Kelly's departure to the NFL.
Overall, it was a signing day dominated by the SEC. The conference claimed the last seven BCS titles and is viewed by recruits as the promised land for NFL development, so it was no surprise to see its schools grab seven of the top 11 classes. 
This signing day haul will affect the balance of power for years to come, dictating which coaches hoist the crystal football, and which coaches are cleaning out their desks after they're fired.