Stephen Johnson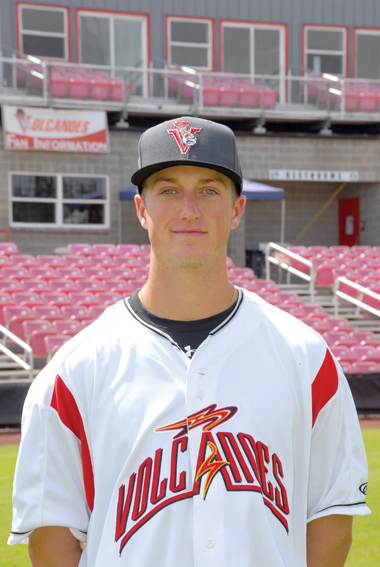 Stephen Johnson would have been a senior at St. Edward's University this year completing his criminology degree and preparing for the 2013 Hilltopper baseball season. Instead, he is playing professionally at the minor league level in the San Francisco Giants' farm system.
The Giants picked the former St. Edward's pitcher in the 6th round of the draft. After the draft, Johnson flew out to Scottsdale, Ariz., to the Giants' spring training facilities and then to Salem, Ore., where he played in the Class A Short Season league. This is a league for newly drafted players like Johnson.
Johnson explained how baseball is a whole different game at the professional level and compared his experience in the minor leagues to his time at St. Edward's. "You can't get away with any mistakes like you can in college," Johnson said in a phone interview. "Everyone seems to be the best from their college. I'm playing with all-stars."
However, skill level is not the only difference Johnson has noticed. "College baseball is more of a team structured sport. In the minors, you do not know if you are going to be with the team for a few weeks, a few days or the rest of the season." The minor league system was designed to be very inconsistent. Players often get moved to higher divisions, knocked down to lower level leagues or even called up to play in the big leagues.
Johnson said he does not have the same support he found at the St. Edward's baseball program. "Each person (in the minors) does his own job rather than a team working as a whole. You just care about yourself now."
Rob Penders, head coach of the Hilltopper baseball team, was a big part of the support that Johnson had during his time at St. Edward's. "I have been around a lot of programs, and I took all that experience and brought it to St. Edward's. I make the guys the best they can be." Penders says that he saw potential when Johnson threw pitches at 93 mph his freshman year. After three years at St. Edward's, he was throwing 97 to 100 pmh. Over the course of his 14-year career, Penders has coached 81 players that have been drafted. He has been at St. Edward's since 2006. "He is a talented kid and I'm very happy for him," Penders said.
With another year of eligibility, Johnson could have played at St. Edward's another year if he wanted. "It was a big decision: finishing my degree or starting my professional career," Johnson said. Both Johnson and Penders noted that the extra year Johnson had left gave him leverage to get a better contract with the Giants. "Having the leverage of being a junior and having another year to come back definitely has an impact on being drafted higher and the amount of money they can offer you. The seniors I talked to did not have that leverage of playing another year. The offers made to them were simply yes or no," Johnson said.
The San Francisco Giants clinched their division last week and will be heading to the post-season. "I want to get called up to the pros next year, but that all depends on how hard I work. I really have to do what I can to get myself there," Johnson said. He plans to be back at St. Edward's next fall to finish his degree and graduate before fully committing to professional baseball.