Women's Golf breaks program record with second place spot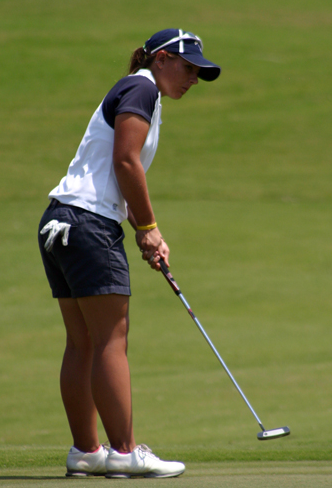 The St. Edward's University women's golf team has been hard at work this fall breaking school records while on the road.
After bringing home wins from their first two tournaments, the team jumped to No. 2 in the nation. Following two more first place tournament wins, the women ended with a perfect fall season–a feat never before accomplished in St. Edward's history and rare accomplishment in the world of college golf.
Senior Wallis Spears excelled in the years leading up to her senior season, and these four fall tournaments have proved that her time as a senior will continue that success. Her sophomore and junior years ended with All-American honors, and last week she was named the Heartland Conference Golfer of the Week. Although Spears and fellow senior Melisa Gonzalez may lead the team with the most experience, Head Coach Jennifer McNeil explains that each teammate adds to the depth of skill on the team. McNeil contributes the team's success not only to the players placed in the lineup at each tournament (only the top five out of the team's nine players represent at each competition, with a sixth player contending individually) but also to the competitive attitude brought to the team by opportunity each play has to fight for a spot in the next tournament's lineup.
Now that the fall season has concluded on a high note, the women's golf team will continue training hard to be competition-ready for the spring, playing top-ranked Nova Southeastern in the first week of March. They will seek to be one of the top nine teams in the West who will earn a spot in the regional tournament in May. The winner of regionals advances to a super-regional, and the top 3 teams at the super-regional will then advance to the national tournament – an opportunity the team hopes is in their future. Follow the team's success this spring as the women work to finish with an even higher ranking than last year's fifth place at nationals. The spring season looks promising for the women of this year's record-breaking St. Edward's golf team.