Women's tennis starts early at regional tennis tournament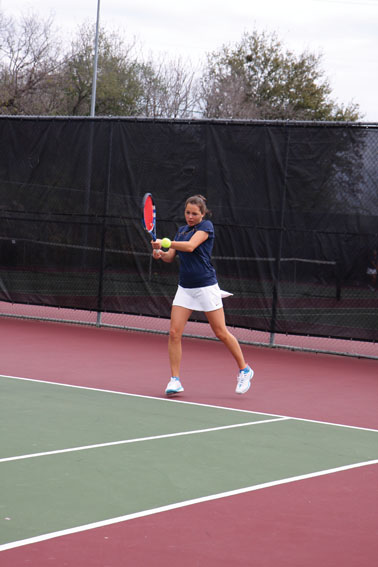 Hang on for a minute...we're trying to find some more stories you might like.
The women's tennis team competed in the NCAA Division II Regional tennis tournament held in Abilene, Texas during the last weekend in September. All the doubles teams won their first matches but were defeated in the second round by the tournament's top competitor.
Singles player and sophomore Sasha Khadzhyan made it to the round of 16, winning her first two singles matches. She lost her third match to the tournament's second seed player.
"Overall, we felt that we could have done better at the regional tournament, but we are now aware of what we need to work on to prepare for next season," senior Paige Rachel said about the team's performance at the regional tournament.
The women's tennis season officially starts in the spring, but the team is taking advantage of these fall tournaments to try out different doubles partners and to gauge what they need to work on for the upcoming spring season.
The team has welcomed two new members this year, including Katherine Sullivan, a freshman from Houston, Texas, and Florence Boinon, a freshman from France. According to Rachel, the team is very close and works together very well.
"We all trust each others' abilities and rely on one another to succeed," Rachel said.
The girls feel that they have improved on their doubles play.
"We are all significantly more aggressive at the net," Rachel said on the ladies' ability to rally at the net and volley to close out points and win games. "I think the players to look out for this season are [sophomores] Rafa Haegele and Sammy Siegel. They both have improved over the summer and have the drive and passion to do well," Rachel said.
The team is already working hard to prepare for the upcoming season. This year, the women are aiming to win conference again and make it to the national tournament in the spring. They are also very keen on beating Cameron University and Abilene Christian University, some of their toughest competitors.