Tours provide running fans with jogging good time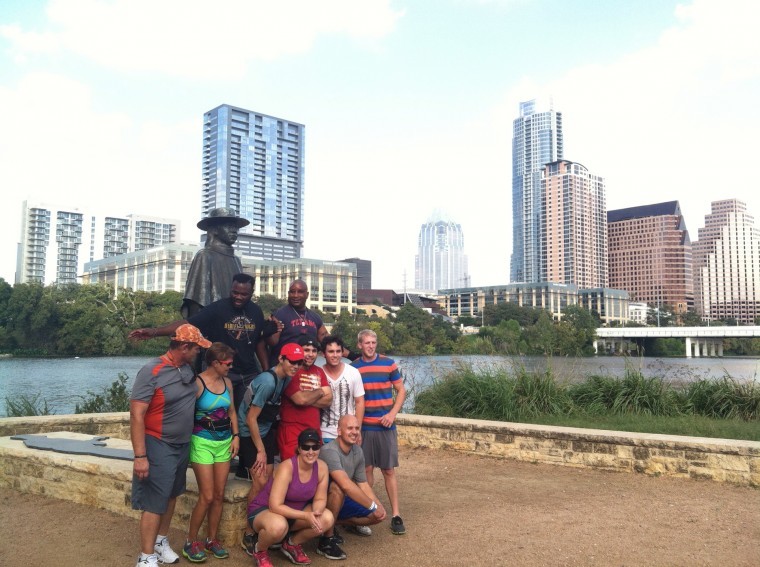 Staff Writer
October 23, 2012
Everywhere you look in Austin, there is something healthy to do. You can take a hike up to Mount Bonell or have a soccer game in Zilker Park, and there are plenty of healthy options for eating out.
To add to the list, you can now go on guided running tours around Austin thanks to City Running Tours.
City Running Tours started in 2005 and operates group and personalized running tours in cities across the country, including Chicago, San Francisco and Austin.
The Austin location started running in February and is managed by Lee Ackerley, a Houston native and Boston University graduate who says he runs the tours because it is the best way for him to meet new people.
"You have got your granola-eating hippie types as well as serious marathoners and triathletes in Austin, which makes it one of the best places to train," Ackerley said.
For a fee, you can sign up for either a guided run or a personalized run with City Running Tours. The structure of the run is based on the preferences and running experience of the groups and can be a run with stops at landmarks or a run without stops.
Group runs include a Downtown Austin Historic 5k, Scenic Parks 10k and a Texas Beer Run 5k.
The Texas Beer Run goes through downtown Austin and makes stops at local bars, including Shiner Saloon and Kung Fu Saloon. On Saturday, the run was led by Rusty Tolliver, a tour guide at City Running Tours.
"My favorite place [to run] changes every day," Tolliver said. "You walk by something a thousand times a day, then you find out it has been there for 200 years or something."
The Beer Run also included historic facts about downtown and Lady Bird Lake.
Ackerley says the running tours are comprised half by locals and half by tourists from other states and surrounding Texas areas. Also, he said the running experience of participants ranges widely.
"We have people who have never run a mile in their life as well as people who are training for marathons, and we make it fun for them," Ackerley said. "With the Texas Beer Run, we even get guys with beer bellies."
Charles Boone, a tourist from Houston, had his first Shiner Oktoberfest beer on the Beer Run. He also ran his first 5k.
"[The beer is] good, it does not leave an aftertaste and it tastes great," Boone said.
Ackerley started running in 2007 and since then has run 14 marathons. He says his favorite place to run in Austin is up and down Shoal Creek.
Ackerley's 15th marathon will be the New York City Marathon in November, but he says Austin is a great place to run.
"The weather, amenities and running clubs and stores make it," Ackerley said. "It is the community that really fosters [running]."