Director Tim Burton visits Austin for Fantastic Fest to promote new film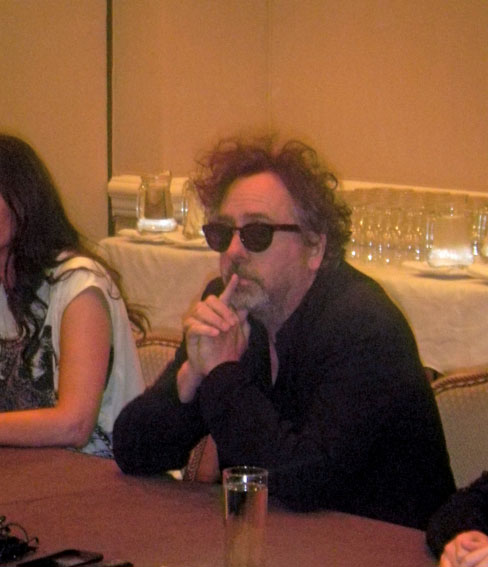 The looming death of his childhood dog is what inspired director Tim Burton to dream up "Frankenweenie," the cinematic child of Mary Shelley and Beetlejuice.
"Frankenweenie" is about a young boy, Victor Frankenstein, who brings his beloved dog, Sparky, back from the dead.
Burton's dog had distemper and was given an early death sentence.
"It ended up living quite a long time. There was always a specter of death hanging over it, which as a child you don't really understand," Burton said at a press conference he attended with several other members of the cast in Austin on Sept. 20. "That first relationship you have with a pet is so pure."
Winona Ryder, who voiced the character Elsa van Helsing, said that as a child, your relationship with your pet is "equally as important to you as any relationship."
Tim Burton's "Frankenweenie" premiered worldwide at Fantastic Fest on Sept. 20 as the opening to the genre film festival held at Alamo Drafthouse on South Lamar.
Burton's films draw on the classic horror movies from his youth.
"I have such a love of horror movies and none of them ever really scared me…I'm much more scared by real life," Burton said.
The movie is a black-and-white stop-motion animated film made for 3D.
"If this movie had been in color, I don't think it'd have the same vibe to it that it does," Burton said.
"Frankenweenie" is the first black-and-white animated feature film ever made.
The production of the stop-motion animation film took two years, according to the "Frankenweenie" production notes. An animator had to stop and reposition one of the 200 puppets 24 times to equal one second of filming. A total of 33 animators were needed because one animator can only create five seconds of animation in a week.
"You can feel the effort and artistry that goes into every shot,"producer Allison Abbate said.
If you've seen Tim Burton's original "Frankenweenie," a 30-minute short film made in 1984, then you have pretty much seen the 2012 animated version. The films are very similar.
The protagonist in "Frankenweenie" is basically a younger Victor Van Dort from "Corpse Bride" (2005). They share the same name and iconic tear-drop shaped face.
Mayor Burgemeister could be the third Tweedle brother from "Alice in Wonderland" (2010).
The 1970s style suburbia that Victor lives in is identical to the neighborhood that rejects Edward Scissorhands (1990) and Elsa, Victor's neighbor and friend, is Sally from "The Nightmare Before Christmas" (1993) with a new hair style.
No doubt about it, this movie will bring nostalgia to any adult.
While Tim Burton's "Frankenweenie" is reminiscent of many of his other films, a few elements were missing, namely Johnny Depp and Helena Bonham Carter.
According to IMDB, "Frankenweenie" is Burton's first film since "Big Fish" (2003) without Depp and first film since "Sleepy Hollow" (1999) without Carter.
Burton did bring back a timeless favorite, however. This was Ryder's first collaboration with Burton since "Edward Scissorhands."
Unless the kids watching this movie read 19th century British Literature or watch classic Japanese monster movies, they will not understand the references. This does not seem necessary to enjoy the movie, however.
The truly hilarious Burton-esque cartoon animal humor is enough to keep children watching. They will appreciate the recurring idea that certain monstrosities can occur when parents are not looking.
According to Martin Landau, who provided the voice of Mr. Rzykruski, Burton "creates a playground" during the production of his films.
Landau was passionate about his character, who he referred to as "eccentric, idiosyncratic, tender, a zealot, and totally undiplomatic."
On creating this movie and working with his fellow cast mates, Burton said, "Life is not perfect, but this is about as close as it gets."
Burton has never attended Fantastic Fest, but has heard that it is a great festival.
"We're really honored that it's here," Burton said.