Nobel Laureate raises funds for mental health and wellness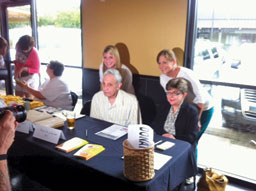 Life & Arts Editor
September 18, 2012
Truthfully, the name John Nash may not ring any bells for most; however, this mathematician, Nobel Prize for Economics recipient, and subject of the 2001 film "A Beautiful Mind" is one of the most influential economists of the last century.  In addition to  all of these accomplishments, Nash is also a diagnosed schizophrenic.
In his 84 years, Nash has been all over the world giving guest lectures, attending conferences and accepting awards for his contributions to modern economic theory. Somehow he found the time to come to Austin for the sake of charity.  
Nash and his wife Alica attended and spoke at a special screening of "A Beautiful Mind" at the Alamo Drafthouse Village on Sept. 16.
After the film, the audience was invited to ask the Nashes questions.
When asked if the movie was a fair representation of what happened throughout his life, Nash had mixed emotions.  
"The film has a different story than the literal truth," Nash said. "The movie shows some visual hallucinations, but this doesn't usually happen. You may have thoughts or opinions that aren't logical."  In spite of this, Nash added that it was a good film.
When asked the secret to overcoming his diagnosis, Nash said, "Diagnoses are too much respected… Time moves forward and situations change.  I don't think people with a diagnosis should be… branded.  Someone with influenza has the flu, he isn't an influenziac."
The couple was also asked what it was like to spend so much time on set with Russell Crowe and Jennifer Connelly, the actors who play the Nashes in "A Beautiful Mind."
"Jennifer is a wonderful actress and I was very flattered," said Alicia Nash.  "I was disappointed Russell didn't get the Academy Award."
The event was put on by The Hope Concept Wellness Center and The HOPE Project, a peer-led wellness center located in Dallas-Fort Worth. Tickets were $20 and all proceeds went to the Planned Living Assistance Network of Central Texas, an organization seeking to aid people with mental health issues and their families.
"Everything is specifically tailored to the individual," said PLAN of Central Texas' Board Chair Elizabeth Choate. "We provided services and support for those affected by mental illnesses and their caregivers."
Both the PLAN of Central Texas organization and this particular event were spearheaded by Cécile DeWitt-Morette, professor emerita at the University of Texas. 
DeWitt-Morette knew the Nashes personally from her time studying at Princeton. She asked the couple to attend in order to raise funds for PLAN of Central Texas.
She started the organization because she has experienced mental illness in her own life.  DeWitt-Morette's daughter Jan is living with obsessive-compulsive disorder. 
She wondered who would take care of her daughter if she couldn't anymore, and she knew she wasn't the only one in this situation.
"I wanted to help her, but I also wanted to help others at the same time," DeWitt-Morette said.  
With this in mind, she began PLAN of Central Texas with eight other families struggling to provide adequate care for their family members living with mental illness.
The screening proceeds went specifically to the Caregivers Fund in honor of Alicia Nash.  The money will go specifically to provide services and support for those caring for the mentally ill.