Women's cross-country freshman sees bright future after fourth-place finish
The St. Edward's University cross-country team placed third at the NCAA Division II South Central Region Preview on Oct. 12, an impressive season accomplishment for the team. Freshman Faith Brothers paced the 6k race by crossing the finish line with a time of 24:28.69 and finishing fourth overall. 
Only being a first year cross county member, Brothers has surpassed all expectations and has gone above and beyond. She does this by having a strict routine and following through every single day. But she still remembers to take care of herself, as being a student athlete can take a huge toll on both your physical and emotional health.
"I usually wake up between 5:30 and 5:50 for practice in the mornings. After my run for the day, I get back to my dorm, shower and eat really fast so I can get to class on time. I don't have a lot of down time during the week. Monday, Wednesday, and Friday– we have weight room in the afternoon. I have classes all day on Monday, Wednesday, and Friday and I have Biology and Bio Lab on Tuesdays, so Thursday afternoon is when I catch up on homework and laundry and run errands if I need to. On Wednesdays, I have to go to my last class still sweaty from weight room because I don't have time to shower before. I usually study and get homework done during my lunch and before I go to bed. I like to go to bed somewhat early so I don't exhaust myself too much throughout the week," says Brothers.
As a Behavioral Neuroscience major with a Psychology minor, she has a lot on her plate. But she prioritizes her school work and manages to get it all done despite her busy schedule. 
"I try really hard to finish assignments early for school. I start working on assignments as soon as I can so that if we are ever traveling for a race I won't fall behind," Brothers adds.
Aside from being a star in the classroom and on the track, Brothers is also a stellar team player. Head coach Ryan Ponsonby says, "Faith is always there for her teammates. The NCAA quantifies cross-country as an individual sport. But anyone who knows anything about our sport understands the heavy emphasis on the team dynamic." Brothers' addition to the team dynamic is clearly helping the team advance, as they placed eighth at their first Lone Star Conference Championship on Oct. 26.
Brothers has had an impressive freshman year, so the expectations for her future as a cross-country runner are high. But that doesn't worry Brothers. 
Brothers says, "I am beyond excited for the rest of my college career here at St. Ed's. I am just getting started and I can't wait to continue improving. I know I will continue to reach my goals because I will always keep pushing myself until I do."
Leave a Comment
About the Contributor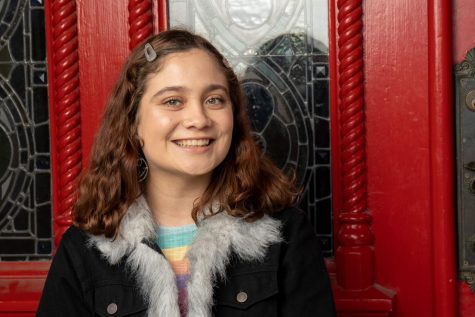 Sammy Jo Cienfuegos, Viewpoints Editor


Hey ya'll! My name is Sammy Jo Cienfuegos and I'm one of the two Viewpoints editors. I'm a senior Writing and Rhetoric major, with an emphasis in Creative...