Men's basketball concludes preseason play with perfect 5-0 record
The St. Edward's University men's basketball team began preseason play at home as they hosted opponents Nov. 12, 14 and 16. Dominating Southwestern, Trinity and Schreiner last week, the Hilltoppers improved to 5-0 in preseason play. 
Described by teammates as "unselfish," Division I transfer Jake Krafka made his Hilltopper debut at home and averaged 15.6 points and 5.6 rebounds over the three home games last week. 
Although Krafka admits that there were nerves leading up to Tuesday's game, the seasoned veteran evidently did not let that stop him from finishing the night off with a season high of 20 points. Describing his team as "fun, together and smart," Krafka credits them for his successful transition into the offense. 
"[The nerves] always go away when the ball tips up," Krafka says. "This week, coach focused on working on ourselves and getting ready for league play. We did a little prep on the opponent but he just kept on saying, 'The week is about focusing on ourselves.'"  
Senior guard Ashton Spears continues to be a staple of Cook's offense, averaging 20.8 points and 2.8 steals per game so far this season. Spears credits his improvement and stamina to his offseason work while emphasizing the important role chemistry plays in having seasons such as last year's. 
"Staying in the gym, I dedicated a lot of time to working on my craft; I knew it was going to be a big part of me having a great season … Ever since I came here last year, that's the one thing I think we have. We have a lot of hard workers too, so when you put all that together, we're able to have seasons like last year," Spears says. 
Senior forward Dorian Lopez led the team on Saturday, finishing with 17 points and seven rebounds. In an effort to reduce the Hilltoppers' marginal lead early, Schreiner imposed a full-court defense. Lopez was not concerned, but rather confident that the coaching and leadership of his team would overpower Schreiner's defense. 
"It just gave us a different look. We have one of the best point guards in the league, so it's really helpful to have a great point guard and an amazing coach that can lead us," Lopez says. "We're working on ourselves and executing the plays, Coach Cook has a phenomenal offense and Trey has an incredible defense." 
Junior guard Ryan Garza has come off the bench strong this season, averaging 11.6 points and 2.8 rebounds per game. Nevertheless, this "sixth man" role is nothing new to the Edinburg, Texas, native as he thrives in his role. 
"I've done it for three years already and I've gotten accustomed to coming off the bench, bringing that little spark, that little extra juice," Garza says. "I like coming in and pumping up the guys." 
Although the team is made up of elite individual players, strength lies in the collective work of the 14-man roster. The team will begin Lone Star Conference play at UT Tyler on Nov. 21.
Leave a Comment
About the Contributor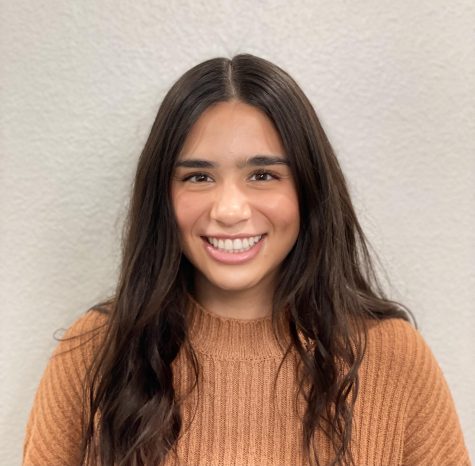 Odett Ochoa, Sports Editor
My name is Odett Ochoa, I am currently pursuing my Masters of Business Administration at SEU. I joined HV Fall of 2018 as a staff writer, and have loved...