Cook earns 300th career win, two Hilltoppers reach 1,000 career points
The St. Edward's University men's basketball team kicked off the new year with a No. 6 national ranking. The team defeated the Javelinas 73-64, which was followed by another marginal win over Texas A&M International. 
The win over the Dust Devils marked Cook's 300th collegiate career win, and he is entering his eleventh season as the centerpiece of the team's success. With a roster of premier players such as seniors Ashton Spears and Dorian Lopez, Cook has the opportunity to make school history once again. 
Cook left his New York roots and joined the team in 2009. The group, made up of mostly veterans, has flourished under Cook's leadership. The team is currently averaging 38% from beyond the arc and 50% from the field. 
The Hilltoppers have continued to be perfect at home, improving to 11-0 at home and 17-1 overall. The team has continually shown their dominance with a flashy offense and gritty defense.
Spears is currently averaging 51.3 % from the field and 44% from beyond the arc, stats that named him to the Bevo Francis Award Watch List. He recently reached 1,000 career points – only taking 52 games to do so. Spears is headlining this year's offense with flashy dunks, supreme athleticism and multiple 20+ point games. Although Spears is a leader on the court, his biggest challenge is off the court. 
"They have been on me about being more of a leader. They know the team follows me and being able to have that effect comes with great responsibility, says Spears. "I always attribute my success to the Almighty Yahweh my creator, coach Cook for trusting in me to play my game and my teammates for their support as well." 
The team has also been helped by the efforts of Dorian Lopez, who has scored 15+ points in five of their last seven games, boosting his season average to 12.5 points per game. This recent scoring success has helped him reach the 1,000 point milestone in his career.
Lopez has played a big role on the boards, too, totaling at least nine rebounds four times over the same seven game stretch. In the team's last game, he played a crucial role in a narrow win, scoring a season-high 22 points with five makes from beyond the arc. Lopez continuing at this elevated level of play will be important to the team's success as they move towards the end of the season. 
"First off, all my credit goes to my family… coach Cook and my teammates. They are always there for me when my head starts to drop. It just goes to show the hard work I have put in and the trust my coach also put into me to allow me to have the ball and make decisions. Growing up, I was always told I was going to play after college so scoring those 1000 points is gratifying."
The team ended the weekend 1-1, defeating Angelo State but falling short to Lubbock Christian. The Hilltoppers will continue conference play by hosting Tarleton State on Thurs. Jan 30 at 7:30 p.m. 
Leave a Comment
About the Contributor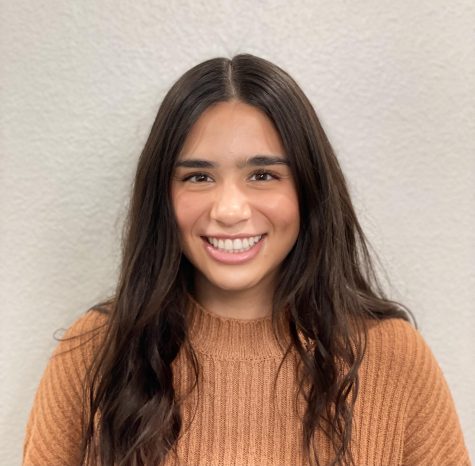 Odett Ochoa, Sports Editor
My name is Odett Ochoa, I am currently pursuing my Masters of Business Administration at SEU. I joined HV Fall of 2018 as a staff writer, and have loved...