Faculty publication event showcases research, offers advice to other professors
As part of Research Week, The Munday Library hosted a faculty publication event on March 3, where professors' books, textbooks, patents, journals and articles were put on display for colleagues and students to view. The Bill Munday School of Business, the School of Natural Sciences, the School of Human Development and Education, the Schools of Behavioral and Social Sciences, and the School of Arts and Humanities had their works on display.
According to librarian Nicole Oglesby, there were celebrations in the past honoring these publications, which were paused for a couple of years, but the library has since reinstated the event. 
"The format of the celebration is a little bit informal compared to past events, but it's a really great place to have it in the library because we support research here and we wanted to bring it to the center of the platform of research," Oglesby said.
The Bill Munday School of Business showcased over 30 pieces of work, including the second edition of "SAGE Encyclopedia of Business Ethics and Society" books one through seven. Business professor Bill Martello contributed to writing the series. The Chair of Marketing Entrepreneurship, Debra Zahay co-wrote the fourth edition of "Internet Marketing: Integrating Online and Offline Strategies."
"This is a reflection of the new St. Edward's. Although certain departments and professors have been publishing, I think this amount of publications is a sign of the new St. Edward's — a little more scholarly, a little more research-minded," business professor John Louks said. 
Of Louks' two publications on display, one took approximately six months to form, and he has been working on the other for around two years. 
The pieces from the School of Natural Sciences ranged from books like "Crime in the 21st Century," written by computer science professor Bilal Shebaro and forensic science professor Casi Parish Fisher.
Writing & Rhetoric professor Mary Rist had multiple publications on display  including, "Weathering the Storm – Independent Writing Programs in the Age of Fiscal Austerity" and "Exploring, Experiencing, and Envisioning Integration in US Arts Education." These publications were part of the 40 pieces selected for exhibition by the School of Arts & Humanities. 
The School of Human Development and Education had eight pieces on topics such as, the need for Spanish-speaking counselors and issues dealing with psychological testing.
Social work professor Adam McCormick published his book "LGBTQ Youth in Foster Care" alongside 30 other pieces from faculty in the School of Behavioral Sciences.
While the event was a celebration for faculty, students were encouraged to review the disclosed works. Sophomore Nycole Holguín and junior Micaela Butts turned out to see the work of their professor, Teresita Garza. 
"I'm here to see multiple professors' works and how they relate to my communications theory class, "Holguín said. Holguín and Butts are communication majors and said their professors have impacted them in many ways. "My professors impact me through story-telling and how personal communication can be relatable to the world," Holguín said.
Leave a Comment
About the Contributor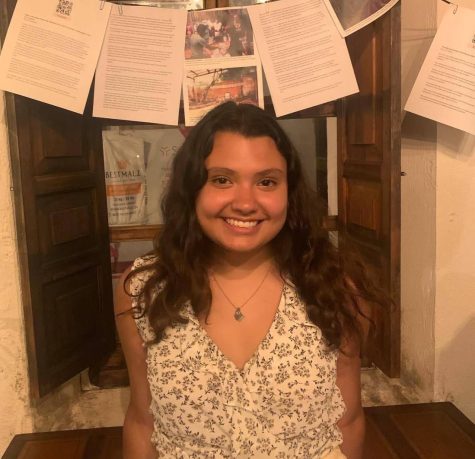 Nina Martinez, Copy Editor
Nina Martinez is a senior at St. Edward's University, earning her Bachelor's in Writing and Rhetoric. Martinez has reported and edited for Hilltop...