Meet Miami's fathers of indie funk: Magic City Hippies sprinkle spice of life on ATX
The flavor of Miami is central to Magic City Hippies' music, and they're steadfast in sprinkling it across the country like a satiating indie funk seasoning. With tunes that conjure feelings of days by the poolside and late nights on the dance floor, the band has a pretty good understanding of what makes up the spice of life.
A Magic City Hippies show strikes you like a lightning bolt in slow motion — powerful, gripping and absolutely electrifying.
"Lit and danceable and percussive." This is how bassist John Coughlin describes their music. If all parts of the show are puzzle pieces, Coughlin's bass is what connects them as he maintains the groove.
"I think we throw a little slide guitar in there, kind of like an homage to George Harrison," frontman Robby Hunter says. A collage of influences make up their sound. Spoon, White Denim, Stevie Ray Vaughn — the catalog is as diverse as the city they come from.
On the second to last night of the Modern Animal tour, excitement fills the air like currents. The vibes are nothing but good coming into Austin as it's shaping up to be the biggest show of the tour. Fans line up outside Emo's Austin and the band chills at the venue's outdoor patio, string lights overhead.
"With the three of us playing together, Austin was the first out-of-town show we ever played," drummer Pat Howard says. Reminiscing on unofficial rooftop shows on sixth street they called "Band Danza," the band reflects on their growth.
Hunter has quite the come up story. He first thought about doing music professionally in college, where he was a theater major. It wasn't long before he had a "F— this" moment and realized his true passion.
"I basically just dropped out of school and started playing on the street," Hunter says.
Howard started playing drums when he was just six years old, but the idea of doing it for a living didn't become a reality until the end of college. There's a certain threshold for any aspiring musician that indicates you may be taking off.
"All of a sudden it's not just your parents or friends at the shows," he says. Negative comments are also a pretty good indicator, but they're all just noise to Howard. And noise can be tuned out.
"If you're looking out for it, you can kind of get everyone's opinion about what you're doing," he says. "But what got anyone interested in the first place was just us being pure and true to ourselves and our own tastes."
Coghlin got his first guitar when he was nine.
"By the time I was 13 I saw The Strokes and I was like, 'I'm going to do that.' And I've been convinced I'm going to do it ever since," he says. So far it's worked out, and he has realized that he is incredibly lucky.
"You know, it's kind of a lottery ticket in a lot of ways," he says. "When you're a preteen, you're pretty convinced that you can do anything, you know? And I still kind of kept that in my head the whole time." Preteen dreams have come true in the form of national tours and adoring fans.
Long days of traveling cross-country in a van have a way of expanding your music taste.
"We're kind of forced to listen to like, the encyclopedia of music, which is good," Coughlin says. While the Red Hot Chili Peppers is their "unifying northern star," the band has a wide palette of go-to artists ranging from James Brown, to Khraungbin, to Tame Impala and an array of afrobeat bands.
"We're in the van listening to music all f—ing day and a lot of it just seeps into my brain," Hunter says. This is how many of their musical ideas come to fruition.
Yes, it's all about the music, but it's also all about the stage presence. When both are at a high, fans leave the show with a lingering afterglow. Magic City Hippies have mastered an artful blend of the two. Hunter puts it quite simply:
"Once you get lost in the music that's going on behind you, everything is effortless; you are coasting, you're floating and everything sinks in perfectly."
Leave a Comment
About the Contributor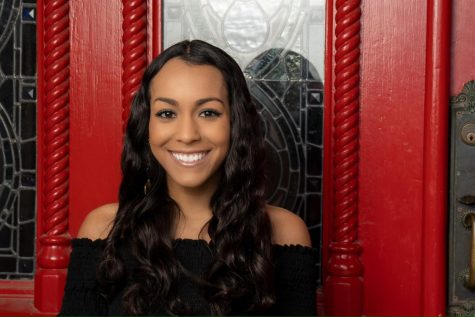 Gianni Zorrilla, Editor-in-Chief
Hey everyone! My name is Gianni Zorrilla. I study communication and journalism and digital media here at St. Edward's and am one of the Editors-in-Chief...