Miley Cyrus steps into her power, asserts her independence on latest single
Miley Cyrus is known for her constant reinventions. She came in like a wrecking ball back in 2013 with her fourth studio album, "Bangerz," took a trip with members of The Flaming Lips in 2015 with the outlandish "Miley Cyrus and Her Dead Petz," then took a relatively peaceful detour with "Younger Now" in 2017. 
Now, three years later, her latest is as bold and bright as the moon against the "Midnight Sky." With confidence, vigor and a whole lot of nerve, Cyrus steps into her power on her latest track.
Cyrus has been on quite the wild ride over the years. Formerly chained to the publicly perceived persona of a Disney darling (only to break free and undergo a dramatic style metamorphosis), it seems Cyrus is finally finding her footing. "Midnight Sky" is an anthem of absolute independence. 
"Lotta years went by with my hands tied up in your ropes / Forever and ever, no more" she sings. The chorus, a declaration of freedom, packs a powerful punch as she sings, "I was born to run, I don't belong to anyone, oh no / I don't need to be loved by you."
One significant era, in the context of this single, is her record "Younger Now." Recently, Cyrus expressed that in the span of her lengthy career, this era makes the least sense to her. From this time came hit single "Malibu," a stark difference from "Midnight Sky" in terms of sound and message. 
"You lose yourself in someone else sometimes," she said in an interview with 106.1 BLI, referring to ex-husband Liam Hemsworth. Since their 2019 divorce, Cyrus has not been shy in reigniting her sense of self. Her 2019 EP, "SHE IS COMING," kick-started simultaneous redirection and rediscovery. 
Now, backed by a disco-inspired beat and channeling Stevie Nicks with her raspy, rich and rock 'n' roll reminiscent voice, Cyrus asserts herself powerfully as she expresses her new path of choice. To where does it lead? The answer is anywhere she wants it to.  
Cyrus performed "Midnight Sky" at this year's virtual Video Music Awards, securing her already-stable status as an engaging performer as she swung from a glimmering disco ball. She's described the disco ball as a symbol of "broken pieces" put back together to make something whole again. If she continues on with the same level of unabashed confidence and razor sharp honesty, it's safe to say more hits are on the way. 
Throughout constant reinventions, one truth remains: Cyrus makes good music. Whether you're into her nomadic genre tendencies or not, there's no doubt that she has entertained through it all. 
The days of Hannah Montana are fossilized in the caves of Disney's past. Cyrus is an entirely different person, or perhaps has finally unearthed her true self. 
Leave a Comment
About the Contributor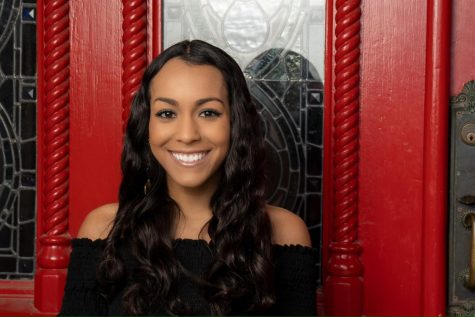 Gianni Zorrilla, Editor-in-Chief
Hey everyone! My name is Gianni Zorrilla. I study communication and journalism and digital media here at St. Edward's and am one of the Editors-in-Chief...