GAME DAY: Angelo State Rams beat out SEU Hilltoppers 98-78
A battle of Lone Star Conference contenders collided in Austin on Saturday afternoon. The St. Edward's men's basketball team entered its matchup on Saturday with a 9-2 record in conference play on a four game winning streak. Angelo State came into Austin on a five game winning streak with a 10-1 record in league play. 
Angelo State player Kevon Godwin opened up the game with two quick 3-pointers, and the Rams never looked back. The Rams jumped into a 15-5 lead less than four minutes into the game. The Hilltoppers offense kept them in the game in the first half, shooting 69.6% from the field in the first 20 minutes, but they went into the locker room trailing 44-35.
The Hilltoppers hung in there for the rest of the game, cutting the deficit to four with 18 minutes remaining in the second half. This was as close as the Hilltoppers would get to the Rams. Over the next three minutes, the Rams went on a 14-5 run to push the lead to 60-47 with 16 minutes remaining. 
St. Edward's All-Conference forward Uche Dibiamaka would cut the lead to seven with just under 13 minutes left in the second half, but the Rams delivered a knockout punch, going on a 16-5 run over the next nine minutes and blowing the game open with a 82-62 lead. 
The Rams won by a final score of 98-78. Godwin of Angelo State led all scorers with 26 points on 10-13 shooting and 6-7 from deep. Fredelin De La Cruz added 19 points and five rebounds.
Dibiamaka led the Hilltoppers with 22 points on 9-14 shooting. Sean Elkinton scored 21 points and collected nine boards.
St. Edward's faces Texas A&M – Kingsville, in Kingsville today at 7:30 p.m. and Texas A&M – International, in Laredo on Saturday at 3:00 p.m.
Leave a Comment
About the Contributor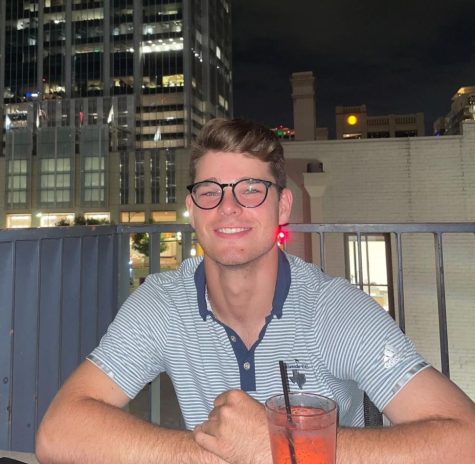 Jack Connolly, Staff Writer
Jack is a junior from Omaha, Nebraska and this is his second year writing with "Hilltop Views" as a Staff Writer. He loves sports but will also write about...