Over the weekend, Crux Climbing Center hosted its 7th Annual Crank'N'Stein contest at its Crux South Location. The event, divided into two sections, brought climbing enthusiasts of all ages together. Nestled tightly between adult and adolescent climbers, members of the St. Edward's climbing team could be found attempting the competition as well.
Earlier this year, on Sept. 30, the SEU climbing team competed in their first tournament at Austin Bouldering Project's Boulderfest. At that tournament, only a small number of the team participated and volunteered in it while almost half the team competed in the Crank'N'Stein competition. 
"Crank'N'Stein was the first competition that I competed in this year," first-year SEU climber Grace Hartung-Latham said. "I am a beginner climber, and I was honestly afraid of competing for a while because I am getting a lot better at the sport."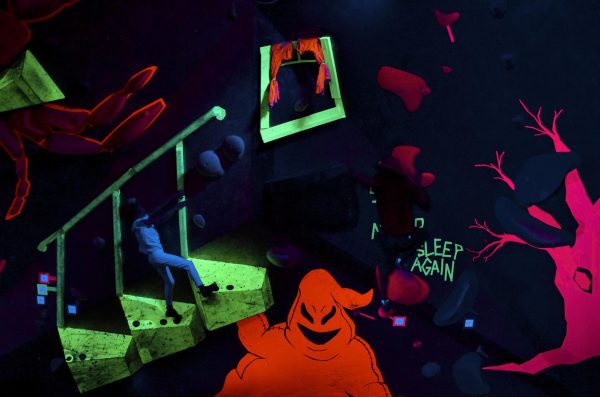 Those familiar with the regular Crux layout saw their event space totally transformed into a blacklight Halloween spectacle. Crank'N'Stein competitors had the choice to attempt any of the themed climbing courses present, of which their top five best climbs would be accounted for in their final scoring. 
"Most people are here to have fun, but some take it more seriously than others," St. Edward's alumnus Eli Wetterling said.
Courses varied in difficulty and themes. A fan-favorite seemed to be a ziplining course where one must land on a climbing hold and then ascend into a coffin. Another course featured a web made of rope that climbers had to gymnically rotate through and then reach for a wall mount upside down. 
Equally as intriguing as the bespoke spooky designs were the competitors' costumes, which sometimes seemed to be detrimental to climbing activities. Staff and competitors alike dawned impressive and humorous costumes in celebration of the Halloween season. Rebeckah Mersinger, a junior on the SEU climbing team, dawned a Beetlejuice inspired outfit, made with striped iconography and all.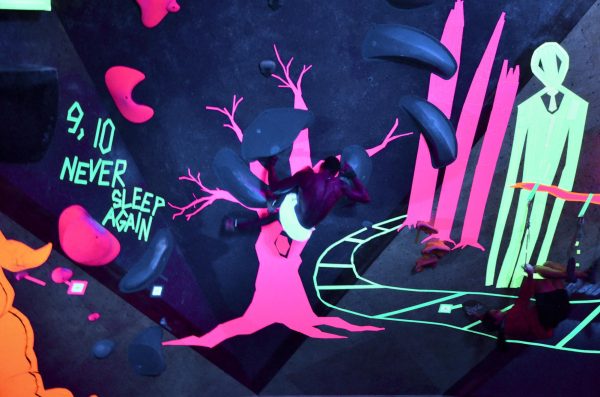 Crux's climbing fun was soundtracked by an upbeat electronic playlist procured by DJ Gogo, a fitting musical experience for the neon-lit competition. However, this fun was slightly dampened by the number of people in attendance. Competitors ultimately had to queue to attempt courses they were interested in, which was worsened by people cutting and doing a course multiple times. 
By participating in competitions such as Crank'N'Stein, the SEU climbing team allows novice climbers to gain experiences previously thought unobtainable. Latham joined this year after they saw the fun opportunities that the club offers. They note that the "team is super supportive and encouraging."
"Climbing is about the individual pushing themselves and growing, as well as growing as a team," Latham said.
Although none of the Hilltoppers present landed a spot on the podium at the end of the competition, everyone's work ethic and drive were  intensely visible. As the semester progresses, there will definitely be more climbing events to pique students' interests.