St. Edward's University men's basketball player reaches 1,000 career points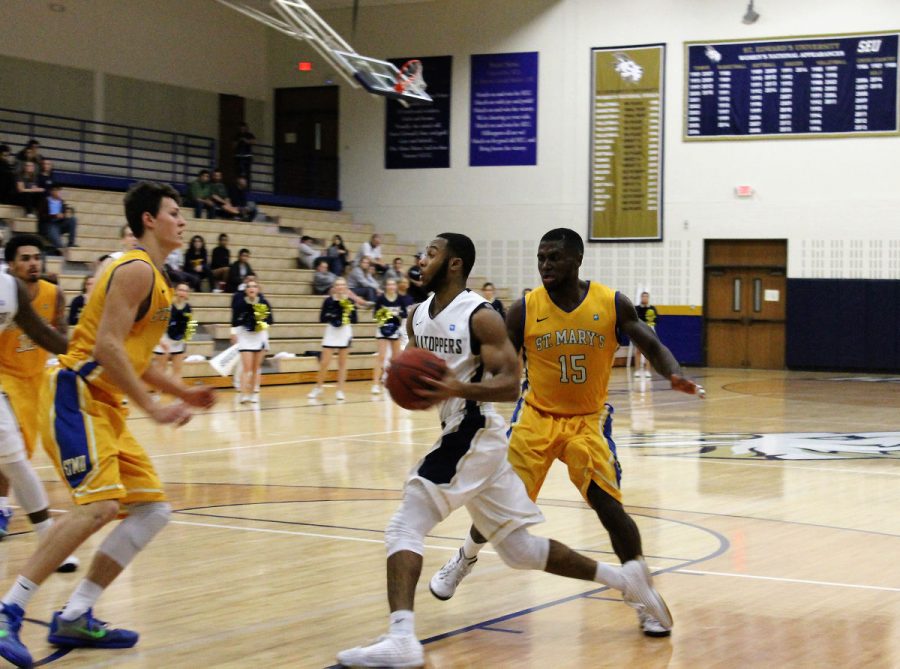 Amanda Gonzalez
February 1, 2016
Ramir Burton recently became the 27th basketball player in St. Edward's University history to reach the 1,000-point club.
The 6'2" junior guard scored points 1,000 and 1,001 with a layup just over two minutes into the game against St. Mary's University on Jan. 16. 
"I knew I was getting close … but I didn't want to make it a big deal in my head before the game, because I knew we needed to win the game," Burton says. "It wasn't just about me."
The game ended up coming down to the wire, as St. Edward's won the Battle of the Saints matchup 69-65.
"Even though I have coached him for three years, he still amazes me with his finishes around the rim," SEU Men's Basketball Head Coach Andre Cook says. "He is always about the team first, and winning is the only stat that matters to him."
Afterwards, his teammates were very supportive, congratulating him, and encouraging him to continue being consistent.
"Our team is really like a family. When we see one person doing good, everybody just supports one another, and we're happy for one another whenever we achieve something like that," Burton said.
Born and raised in Niagara Falls, New York, Burton grew up playing basketball.
Eight hours away from the bright lights of New York City, there wasn't much to do but play ball – or take a walk across the Canadian border, Burton says.
Burton looked up to Niagara Falls natives: NBA first-round draft pick Jonny Flynn, as well as Paul Harris who plays in the Turkish Basketball League.
Niagara Falls High School has seen decades of basketball glory, including a Section VI Championship during Burton's tenure.
When deciding which college to play for, Burton visited St. Edward's, appreciating the sunshine of the South, the athletic department's warm greeting and the fact that he could be closer to his father who lives in Houston.
Once he committed to St. Edward's, he was assigned jersey number 25.
The jersey number is retired at Niagara Falls High School, following the death of promising basketball player Miguel Respress, who collapsed after a summer basketball tournament in 2005. Respress was a family friend, so in wearing No. 25, Burton feels he's playing for two.
Although accustomed to playing as a guard, he earned a lot of minutes and points his freshman year playing as the point guard when starter Frank Mgbolu was injured. Burton says this time at point really helped him grow as a player.
Cook describes Burton as a very quiet person who lets his plays on the court speak for himself. 
"He has a good heart and he would be willing to help anyone," Cook says. "He doesn't like to be singled out for praise, as he just wants it to be about the team."
When he's not playing basketball or studying, the kinesiology major also referees intramural sports.
As a sophomore last season, Burton and the team reached the Heartland Conference Championship, losing to St. Mary's in another close game. This 63-60 loss prevented them from reaching the NCAA Tournament.
Now a junior, Burton feels additional pressure to grow into a stronger leadership role.
"Hopefully, I'll get better at it," Burton says. "I try to take what I see from Frank," the senior captain who corrals everybody on the court and is the go-to problem-solver. 
Burton credits the veteran players for reliability, but also the sophomore class for their developments this season.
Despite his introverted, laid-back demeanor, Burton has had several highlighting moments in his career so far.
On Dec. 17, 2015 Burton scored a season high 36 points, breaking SEU's single-game free-throws-made record by going a nearly perfect 21-22 from the line.
"Players like Ramir don't show up at St. Edward's regularly. There isn't a Division II school in the country that wouldn't want him," Cook says. 
Burton is currently averaging 14.8 points a game.
"I am lucky that he is here with us and I get to coach him for the rest of this year and next," Cook says.
The Hilltoppers are presently 14-6 overall, and 7-5 in conference standings. With several teams tied in the  standings, the team's next home game on Thursday against Texas-Permian Basin will be critical.
"We started out better last year in conference than this year, but I feel this win that we just got against Fort Smith [on Jan. 30] will help us get it going," Burton says. 
"Hopefully we can make a run in the conference tournament, and hopefully we can make it to the NCAA Tournament," Burton says about the team's goals.
Regarding his future, Burton hopes to be another basketball player from Niagara Falls fortunate enough to play professionally overseas.