Men's basketball kicks off season with victories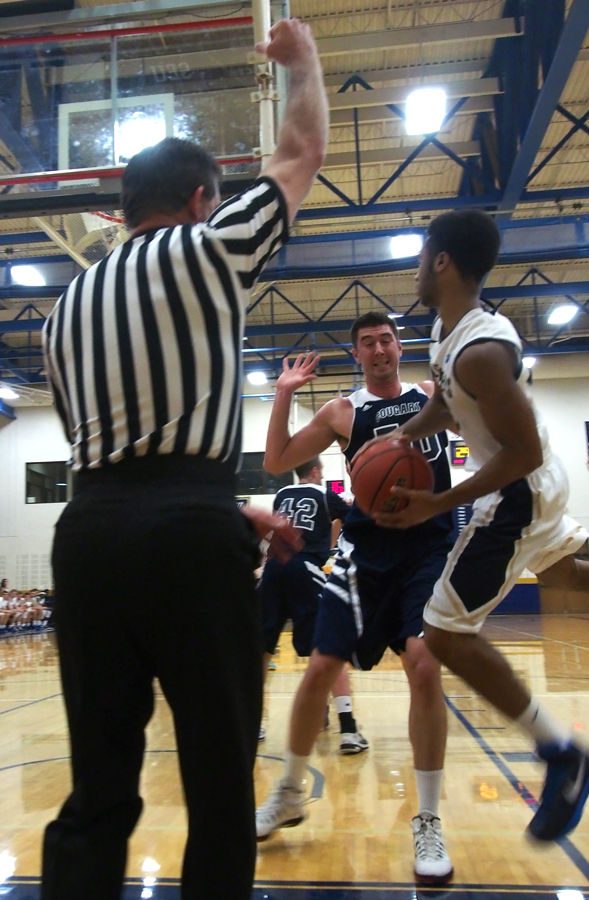 Reporter
November 17, 2014
St. Edward's men's basketball began their season on a positive note over the weekend, beating Colorado Christian University and Colorado Mesa University in the Heartland/Rocky Mountain Conference Tip-Off.
The first matchup against Colorado Christian was a part of the Blue & Gold Series, as Hilltopper fans were given white t-shirts to 'white out' the RCC on Nov. 14.
Feeding off the school spirit, the Hilltoppers jumped out to an 11-4 lead in the first five minutes behind junior guard Frankie Mgbolu's three early layups.
However, despite this early surge and forcing 10 turnovers, the men trailed 35-31 at halftime after Colorado Christian closed the period on a 14-2 run.
While the Hilltoppers regrouped in the locker room during the intermission, there was an alumni reception where former SEU basketball players were acknowledged for their return to the Hilltop.
"It is fun coming back," former co-captain and 1967 graduate Jeff Burns said. "I wish the team well and I hope they have a great year."
Re-energized by the alumni, the student section sparked the Hilltoppers to a 15-8 run at the beginning of the second half. With the lead restored, the men would not look back, controlling the paint and possession.
Behind a harassing defense that forced Colorado Christian into 29.4 percent shooting and 13 turnovers in the second half, the Hilltoppers snapped a five-game losing streak dating back to last season.
"It was a huge success and getting the win takes a big load off my mind," Head Coach Andre Cook said. "The white-out game brought a great crowd here."
The success would continue against Colorado Mesa on Nov. 15, as the Hilltoppers were once again led by their defense.
Holding the Mavericks to just 30.7 percent shooting in tightly contested first half, the Hilltoppers led 27-26 heading into the break.
However, the scoring would pick up in the second half as the men went on a 17-9 run led by junior guard Frankie Mgbolu and sophomore guard Ramir Burton, who combined for 39 points in the game.
Shooting a sizzling 56 percent from the field in the second half, the Hilltoppers pulled away from the Mavericks, winning the game 74-61.
With 43 points for the tournament, Mgbolu was named the Heartland/Rocky Mountain Conference Tip-Off MVP, as he and co-captain Trey Lindsey were also named to the All-Tournament team.
Currently at 3-0 to begin the year, the Hilltoppers are looking to keep playing well and to play cohesively as a team, something Mgbolu hopes will continue throughout the entire season.
"We play together as a family and everyone knows their roles," Mgbolu said. "The team's goals are to win all our home games early on to get a good start and make the conference tournament."