New coach helps to bring early success for men's tennis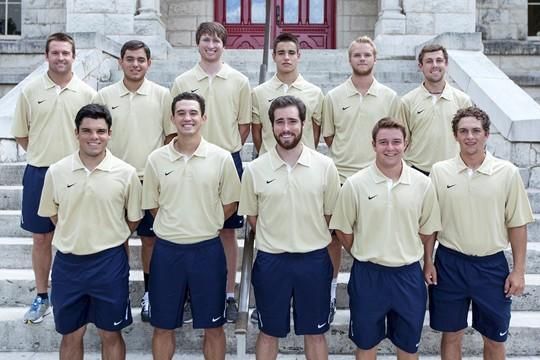 Staff Writer
September 29, 2014
This year's men's tennis team will have a different look to it, as longtime Head Coach Russell Stern retired after 27 years at St. Edward's University.
Replacing Stern is Estevam Strecker, a former Auburn assistant and a coach at the Austin Tennis Academy for the last seven years.
"I know I have some very accomplished shoes to step into, but I am ready for the challenge," Strecker said. "I want to continue St. Edward's tradition of winning."
With an experienced core of veterans at his disposal, Strecker has the luxury of easing into his new position. However, there appears to be no shortage of ambition.
"I want to build something a little more powerful," Strecker said. "It is my goal to develop, not only great tennis players, but also great young men who can go out into the world and make great things happen."
Strecker spoke highly of the leaders on his team, four juniors and two seniors, who have contributed to the Hilltoppers' streak of six consecutive Heartland Conference titles.
"We have junior Felix Bake who has been an outspoken leader for our freshman; junior Maximo Agoglia has also led by example; and seniors Adrian (Garza) and Patrick (Clynes) are the shoulders that everyone stands on," Strecker said.
This year's team looks to continue their dominance in the Heartland and return to NCAA tournament, hoping to build on their Round of 32 finish in May.
"With our new coach and new members on the team, including myself, I can see us doing very well this season," transfer Jorge Salazar said. "Making it to the Elite Eight is our goal behind winning a national title. We have so much talent and depth in our lineup."
According to Strecker, this talent is a testament to their work ethic, as the men practice together to become better players and teammates.
"We work out two-and-a-half hours a day," Strecker said. "Working together helps our team become a stronger unit, and as a strong and supporting unit, we will be able to perform well in competition."
The men also look to have a little fun as they try and stay competitive, hoping to play loosely and entertain their fans.
"We have a joke on our team where if one person says 'Hilltopper,' then everyone has to follow it with 'mah'," Strecker said.
With Strecker's arrival, excitement is brewing on campus for the new era of St. Edward's tennis.
"I want to see how this year's team performs," sophomore Lisa Machado said. "I am so excited to see them play."
On Sunday, Bake and freshman Ricardo Pineda teamed up to take home the first St. Edward's regional doubles title since 2005 at the ITA South Central Regional Championships.
The Hilltoppers hope to take this momentum into the ITA Small College National Championships Oct. 9-12.