'That Awkward Moment': Bromance and chick flick all in one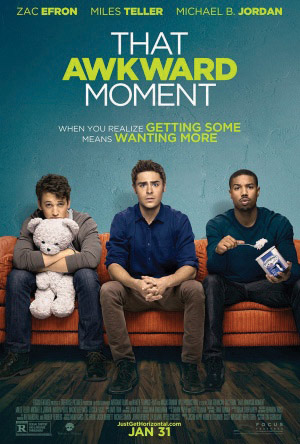 Staff Writer
February 13, 2014
For a film with the word "awkward" in the title, "That Awkward Moment" offers some surprisingly easy laughs as well as a lineup of both well-known and up-and-coming actors.
The cast of "That Awkward Moment" includes Michael B. Jordan (Mikey) from the hit TV Show "Parenthood" and the critically-acclaimed indie film "Fruitvale Station," former Disney star Zac Efron (Jason) and Miles Teller (Daniel), who has been making his way into the Hollywood limelight with starring roles in "The Spectacular Now," recent Sundance hits "Whiplash" and "Divergent," an adaptation of the best-selling novel of the same name. 
This movie goes behind the scenes of what "bros" really talk about, how they behave and how they act with each other.
The film begins with Mikey finding out his wife has broken their sacred bond and now wants a divorce. Jason and Daniel embrace Mikey's single life as an opportunity for all three of them to bond over their time as single men together and throw themselves into the "dating game," or as Jason calls it "building his roster."
The movie does not fulfill the hype and expectation it created for itself. It is not a "you will die if you do not see it" film. However, it can still be an enjoyable, feel-good film. It is a movie that does not require your full attention, but rather it serves as a movie to sit back and relax to.
It is probably safe to say that the general audience targets women of all appropriate ages. 
However, after seeing this movie, I would suggest it to any man who has a significant other that loves romantic comedies. If a man does not want to sit through yet another rom-com that will supposedly weaken his manhood and make him want to gouge his eyes out, then this is the film to pick. "That Awkward Moment" is honestly not that  difficult to sit through, and some viewers may even find themselves enjoying a rom-com–even if they describe themselves as a masculine, brooding man.
Personally, given the title, there are a few scenes and one specific character that makes you feel rather "awkward," but I found it rather enjoyable and it made me laugh quite a few times.
It was refreshing to see a rom-com that focused on a "bromance," and not another one that was based on the bond between girls or women.