Miami looking vulnerable as NBA season tips off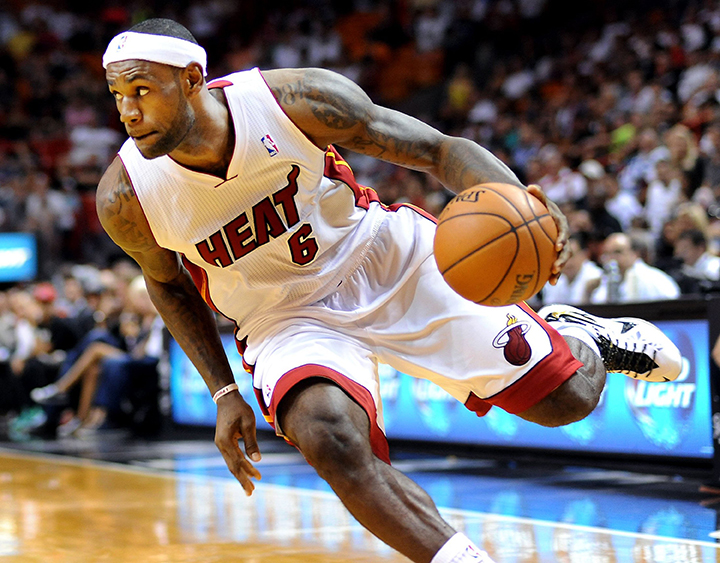 Staff Writer
November 7, 2013
With the beginning of the 2013-14 NBA season this past week, there has been much talk about potential challengers to the Miami Heat's championship throne, after the two-time defending champions were pushed to the brink in last season's Finals by the San Antonio Spurs.
The Heat are looking to secure the famed "three-peat" this year by winning their third consecutive title, a feat only accomplished by the Lakers, Celtics and Bulls. They are returning their core, all-star cast of LeBron James, Dwyane Wade and Chris Bosh, but Miami has also added much needed depth and versatility to their frontcourt by signing free agents Michael Beasley and Greg Oden in the off season.
Despite these additions, the Heat players have started off the season shaky after losses to the Sixers and Nets, and they appear to be vulnerable in the Eastern Conference. Miami's pursuit of a three-peat may ultimately rest on the health of Dwyane Wade, as he battled  through many knee injuries last season.
In other news, the Houston Rockets signed all-star center Dwight Howard after he chose to leave the Los Angelos Lakers as a free agent this summer. With a solid supporting cast consisting of James Harden, Chandler Parsons and Jeremy Lin, the Rockets hope that the acquisition of Howard can push them over-the-top as they try to challenge Western Conference powers Oklahoma City and San Antonio.
The Chicago Bulls are another possible title contender in the NBA this season. Despite losing to the Heat in the second round of the playoffs last year, the Bulls are extremely confident that the return of their MVP point guard Derrick Rose will help them overtake Miami in the East. Rose is returning this year after missing the entire 2012-13 season due to a torn ACL in his left knee.
However, the Brooklyn Nets made the biggest splash this off season when they traded for future hall of famers Paul Pierce and Kevin Garnett. Coupled with current stars Deron Williams, Robin Lopez and Joe Johnson, the Nets now boast arguably the best starting five in the league and are sure to challenge for the Eastern Conference and NBA crowns. Brooklyn also hired future hall of fame point guard Jason Kidd as their head coach shortly after he retired this past spring. The question remains, though, whether or not they can develop team chemistry with all of the new additions.
The chase for the NBA title appears to be wide open for the first time in years, as anticipation and excitement is at an all-time high amongst fans and analysts.