Return of Bulls' Rose could spell doom for Heat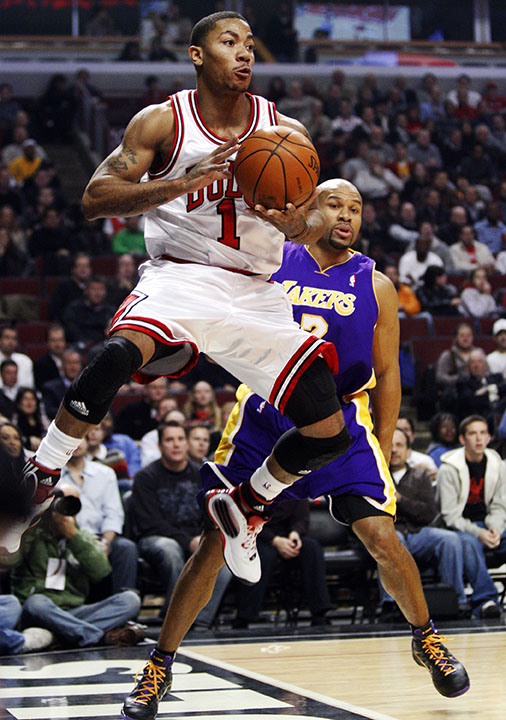 Just 11 months ago, NBA on TNT broadcaster Kevin Harlan spoke these fateful words: "holding on to his knee, holding on to his knee and down."
It was the day the world stopped turning in Chicago, as the Bulls' All-Star point guard and league MVP Derrick Rose tore his left ACL in their playoff opener against the Sixers. But perhaps more significant than the initial reaction by Harlan were his comments that followed, "how about one guy, one injury changing the landscape of the Eastern Conference, and beyond."
Without Rose, the Bulls are a fringe playoff team with only a first round ceiling. But with him, Chicago poses the biggest threat to the defending champion Miami Heat in the East.
The masses are quick to forget the Bulls are just two years removed from facing the Heat in the Eastern Conference Finals, and decisively jumping out to a 1-0 lead in that series.
However, that squad hardly resembles the current. The vaunted "Bench Mob" consisting of Kyle Korver, Ronnie Brewer, and Omer Asik is gone, replaced by the cast of Nate Robinson, Jimmy Butler, and Marco Belinelli.
Former Bull Kirk Hinrich has been re-signed to provide depth at the point guard position and the addition of three-time All-Star Richard Hamilton was poised to link up a reliable knock-down shooter with Rose in the backcourt.
However, the common denominator is very apparent; it's the need for Derrick Rose's return. He has been participating in 5-on-5 practices for a month now, and reports surfaced earlier this month that reveal he's been medically cleared to play. All signs point to a return, likely before playoffs.
But there's still one hurdle left, and it's mental. Rose's game is built on explosion and aggressive cuts, and at the moment he simply doesn't have enough trust in his surgically repaired knee.
Without his return, the upstart Indiana Pacers appear to be the best bet against the Miami Heat, who are currently on an unprecedented 23 game winning streak. With a dominant interior consisting of Roy Hibbert and a rough-and-rugged David West, the Pacers exploit the Heat's lack of size and ability to rebound.
But the fact remains, there is simply no answer for LeBron James and Dwyane Wade, who singlehandedly propelled the Heat past Indiana in last year's playoffs.
Chicago, however, holds three key features that blueprint how to beat the Heat: a LeBron stopper, frontcourt size, and an explosive point guard. All-Defensive Team and All-Star forward Luol Deng is an elite on-ball defender, who is proven capable of sealing off James' driving lanes.
The Bulls also have excellent rebounders and defensive post players in Joakim Noah and Taj Gibson who can alter shots defensively, and create second-chance opportunities on the opposite end.
The most critical piece to the puzzle is Rose, who when healthy, is too athletic at the point for the Heat's Mario Chalmers to handle. Although LeBron has been assigned to guard Rose in late-game situations in the past, he cannot guard him the entire game without exposing a size mismatch elsewhere on the floor.
At this point, however, this is all hypothetical as Rose has yet to return. Is Chicago poised to unseat Miami, even with a full arsenal? It's unlikely considering they average 92.8 points per game, second worst in the league, and struggle to find complementary scoring with or without Derrick Rose. "Da Bulls" are certainly capable, but they'll need to have their catalyst and MVP back first.