Senior second baseman is top team prankster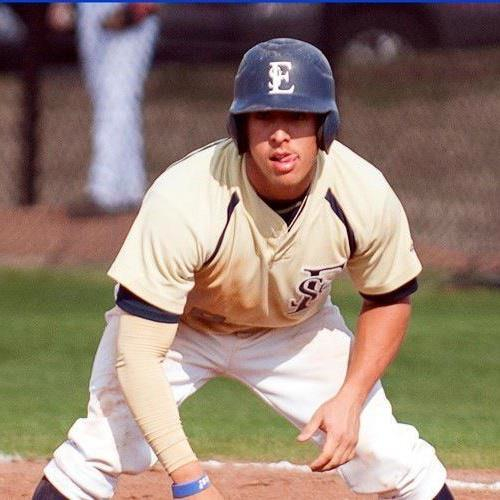 Senior shortstop Taylor Johnson currently leads the team in stolen bases and runs and is third  with a .467 batting average. Johnson, a four year player, was selected for the First-Team All-Heartland Conference last year and looks to repeat for the 2013 season. 
First off, where are you from?
I'm from Dripping Springs, Texas. It's probably about thirty minutes, thirty five minutes from Austin, not far at all.
And what made you come to St. Eds?
Uh you know, I was talking to one of the old assistant coaches before he left, they were one of the first that really looked at me, so I just decided to sign early.
What position do you play?
I play second base here at St. Ed's and then in Dripping Springs I flip flopped between shortstop and second base.
You currently lead the team in steals, are you the fastest player on the team? Why are you so fast?
Yeah, yeah. I think so. I hope so. I mean, it's probably genetic, my sister runs track at LSU, I guess I got lucky, or we got lucky.
So what's the best part about being on the team and the worst part about being on the team?
The best part part about being on a team is that the baseball team is like it's little world. It's like it's own special clique. You know, it's really fun, the friendships and stuff. I'd say the worst part is probably the long roadtrips, especially if we lose, coming back. That's brutal.
Do you guys play any pranks? I know baseball teams are notorious for that.
Oh god yeah, all the time. Me and Marshall Burford like head that department.
What's the best prank you've played on anyone?
Sometimes we'll hide peoples gloves and zip tie them to the top of the dugout, stuff like that. It's easier on roadtrips because you have time to plan stuff out.
So what are you plans after graduation?
You know, hopefully be able to keep playing baseball, I hope. And if not, I'm going to try and be a firefighter.
Have you received any exposure from scouts? Or farm teams? Do you think this season will help you get more exposure?
A little bit here and there, but not as much as I'd like. Yeah, I hope so. We've got a good team and we've got to make it as far as we can get, College World Series, that'd be awesome to go and play there.
Do you think that with Stephen Johnson being drafted that the eyes of scouts were drawn to St. Ed's?
Yeah, I mean we've got a guy who can probably be drafted if he wanted to, he's doing really well. I think that helped him a lot too. It's definitely put us on the map. Stephen actually came back about a week, week and half ago and then he left real quick again.
Why do you want to be a firefighter?
My uncles a fire fighter, I'm a family person, so I like having the ability to come home for 48 hours, you know spend time with my family. And it'd be hard to do that with baseball.
What are your workouts like?
We work out twice a week, it's a cross between a crossfit and a regular workout. It's a lot different than it has been in the past. I think it's helped, a lot of people are more in shape. It's helped a lot. Usually we start off slow, but we've really hit the ground running this year.
Do you have any big games coming up?
Yeah, every game is a big game, but there's more stress on certain games. After we play McMurray this weekend, we'll play UTPB but the next weekend after that, the first weekend in March is where we really start to grind. We'll be playing St. Mary's at home, that's always a good game. That's conference and that's always a huge series because they're ranked number one preseason. So it'd be awesome to win the series and maybe sweep, it'd give us a leg up.
What do you think about the coaching staff, has it changed a lot since you started playing?
Yeah, it's changed a lot since I've started. I think we've gone through, this is my third assistant coach that has been here since I've been here, but I like the coaching staff a lot. They helped me out a lot, grow and develop as a player and I appreciate that.
Anything else you'd like to say before we finish?
Go toppers!
 Taylor and the baseball team play next in Odessa against UT-Permian Basin on the 22nd. Their next home game is on March 1st against conference rivals St. Mary's.