Men's soccer ready to host playoff game on Saturday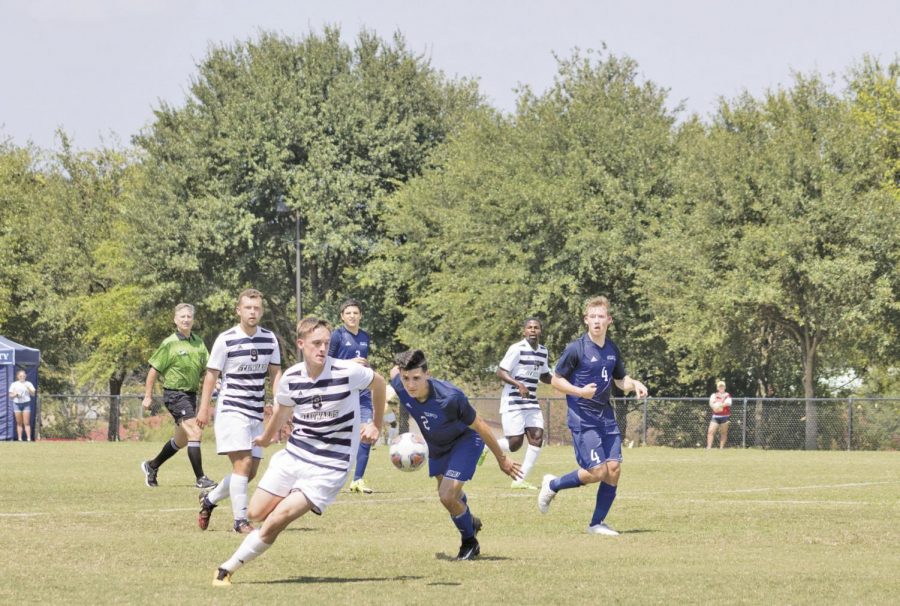 Amanda Gonzalez
November 6, 2017
For the second-straight year, the men's soccer team has earned the chance to host the opening round of playoffs.
After finishing the regular season with a 15-4-1 record,  St. Edward's is the No. 2 seed for the South Central Regional. The visiting opponent is No. 3 Colorado School of Mines, who finished with a 17-3-0 record. Kick-off is Saturday at 1 p.m. on Lewis-Chen Family Field.
"Our strength of schedule, and the results we've gotten over the past three months have been fantastic," Young said. "We've faced playoff teams pretty much the whole season," noting the team's 9-4 record against above .500 teams.
The last time these two teams met was Sept. 3, where St. Edward's won 3-0. Colorado Mines had a coaching change in August during preseason, which Young says may have affected the team's performance early on.
Once the senior-led Colorado Mines found thier groove, they were a stronger team.
"They lost their first two games, and lost early on, but that, they went on like a 15-game unbeaten run, so it's definitely a completely different team," senior defender Nate Coons said. 
Coons, senior defender Owain Hoskins and senior forward José Pablo Covarrubias were selected to the All-Tournament Team for their strides during the Heartland Conference Tournament Championship Nov. 5.
Meanwhile, senior defender Ty Mobley earned his second consecutive conference-wide Defensive Player of the Year title.
At the HC Championship, the Hilltoppers lost 1-0 against Midwestern State University.
"Our heads were kind of down after we lost on Sunday, because that's the first time in five years that we've lost the Heartland Conference Championship, so knowing we're going to host Colorado Mines is a great thing to have."
Midwestern State's record improved to 18-0-2 with the HC Championship win, which earned them the No. 1 seed in playoffs. Midwestern State is scheduled to play the No. 4-seeded Colorado Mesa (16-3-1). 
If St. Edward's and Midwestern State both win this weekend, the two teams will meet again in Nov. 17 at the Regional championship for a more critical rematch of the conference championship.
However, the Hilltoppers' first step to the Regional game is beating the Colorado School of Mines. 
At the team meeting after the NCAA Selection Show on Nov. 6, Young commended the team for their consistent efforts.
"We've played against a lot of really good teams," Young said. "From the early part of the season, you all did really well, and carried that through the whole way."
Some of the benefits of hosting are that St. Edward's won't have to fly to Colorado, which allows for an extra day of training and preparation.
"Playoff soccer is not always pretty," Young said. "You have to get the results… We've played some high level opponents, and that always prepares you as a player."
Strong quality of other teams helps mentally prepare for tight playoff games.
Regarding Saturday's game, Young hopes for a large fan base like there was at last year's NCAA Tournament opener. The first 100 SEU students will get in free, compliments of SEU Athletics; students, military and seniors pay $6; adults $10.
"It should be a gorgeous, San Diego type of day, 70-something degrees," Young said with a smile. "All the support we can get, the best."