Greater goals: The story behind a Hall of Fame Hilltopper
Coaching soccer has been at the center of Nick Cowell's life for over 30 years. The way he sees it, soccer will be part of his end as well, provided it comes with a big victory.
13 years and 400 wins later, women's soccer head coach Cowell has never had a losing season and is the most winningest coach in the school's history.
Over a career spanning more than three decades, Cowell has accumulated an overall record of 414-128-45 and a win percentage of 74 percent. Ranked by wins and winning percentage, Cowell is 16th in the all-time list and among the top 10 active NCAA Division II coaches.
"I never really went into it with any great aspirations of having a long career. Like I tell my kids, if you can find a job that you don't really think is a job, just do it," Cowell says.
In 1983, he received his Bachelor's degree in French and Spanish at the University of Birmingham, England. Over the next five years, he became increasingly involved in the U.S. college system, finally landing a job that kick-started his career.
"When I was at university, I used to come over every summer to work camps. I went to Canada one summer, then the next year I went to Tampa Bay Rowdies…I kept going back for about five years and got to know some college coaches," Cowell says.
Back in England, Cowell was unsure of what direction to take, when a phone call initiated his move to the U.S. In New York, Cowell found himself immersed in a new culture.
"I was playing for woking in London, just had a part-time job and wasn't really sure what to do next. I got a call from one of the coaches I knew here, and he invited me to come over and play for a year in New York," Cowell says.
Upon reflection, Cowell recalls the more humorous aspects of those years spent in the Big Apple.
"Apparently, a lot of the fans would bet on the games during the week, so if we won, random old Greek guys would come up after the game, shake your hand and leave $100 to $200 in the palm of your hand," Cowell says.
Eventually, Cowell accepted an offer to become an assistant coach and get a Master's degree at the same time, at Cleveland State University, Ohio. Three years later, Cowell made the transition to the women's college game when he followed his best friend to take up coaching roles at Trinity University in San Antonio.
Cowell talks fondly of the Lone Star state and explains how he now considers Austin home.
"My wife's from Texas, so my kids were born here. I've been at St. Ed's for 13 years now – that's the longest I've ever been anywhere. … I really enjoyed the lifestyle and didn't want to go back up north to Ohio. That was so cold!"
The passion in Cowell's voice is audible as he discusses his relationship with St. Edward's.
"It's a great fit. I think Division II suits my personality– the combination of athletics and academics. Austin is a great city to live in, so everything checked all the boxes really."
Cowell has had a profound impact on the Hilltop, but more so on those, he has coached. He talks about having ex-players show up for alumni events and his pride in having had an impact on people.
"When I talk to them, they look back on their college soccer career as one of the defining moments of their life," he says.
Cowell's mantra is that "winning isn't everything, but trying to win should be … in the game and in life also." Yet, he's keen to emphasize the extent to which the job has allowed him to constantly develop.
"I've learned so much from being a coach and being in contact with young people. I'm definitely a different coach now than I was when I set out. I've developed over the years, and hopefully my players would say that too," Cowell states definitively.
Over the course of his career, Cowell has come into contact with many male players, as well as the young women he has coached. Cowell states that, particularly at the college level, there are notable differences between coaching females and males.
"Boys won't see anything that they did wrong, they'll focus on what they did right." Girls, he continues, "are the opposite … it's really hard for guys to focus on their weaknesses, but I think for women they're very self-critical."
Cowell's honest appraisal is indicative of his extensive experience and his soft spot for the women's game, of which he has progressive ideas about its development.
Regarding his own future, Cowell is less certain of what the next few years may hold.
"I always want to go to work. I enjoy coaching, I enjoy the competitiveness of it. The cliché is that you take it one game at a time, but that's really all I've ever done … if I keep enjoying it, I'll keep doing it," Cowell says.
Leave a Comment
About the Contributor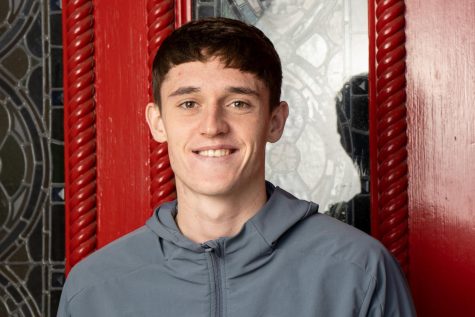 George Murray, Sports Editor
Hi! I am George Murray, one of the Sports Editors at Hilltop Views. I am an english literature major and journalism & digital media minor graduating...