Rios, Castañon win 2019 Student Government Association election following competitive race
Leslie Rios and Athina Castanon were elected as the 2019-2020 President and Vice President of the Student Government Association, winning 60 percent of the 750 votes cast.
Rios and Castanon plan to orchestrate growth within the St. Edward's community through community, justice and representation. With Rios' experience as the 2018-19 Vice President and Castanon's experience as a 2018-19 Senator, these women are ready to lead.
"As soon as this week passes, opening up the senator applications because we still have one more vacancy, opening up cabinet applications, starting to find our team for next year, and then developing training for SGA senators and everybody. I'm really excited to start working on our platform," Rios said.
Prior to this election, Vice President Castanon has wasted no time in initiating change on this campus. Earlier this semester, Castanon implemented a Business Closet for St. Edward's students. The Business Closet allows students who don't have the resources to buy business clothes to rent some out through an organized system.
"We have to hit the road running. We have so many plans, we promised so many commitments, and it's our responsibility to hold each other accountable and make sure we're completing what we said we would," Castanon said.
All told, the Rios/Castanon ticket spent around $450 on their campaign, according to their campaign manager Taylor Huey. Most of the money, about $340, went towards "t-shirts, and the rest was spent on flyers, posters and coffee," Huey told Hilltop Views in an email.
Huey stated that while the amount of campaign funds were important to the success of Rios and Castanon, the most important aspect of campaigning was how they spent those funds.
"For instance, one day while tabling we bought coffee and served it to the morning rush of students. That was really great as we were able to meet students we hadn't seen already and a lot of people got to hear about our platform while we poured them coffee," Huey said. "It was also really sweet as it was a sort of tradition from how Jo and Leslie campaigned last year. I think we were really relatable and original and people seemed to respond to that energy."
Around 90% of the campaign funds came from Rios and Castanon, according to Huey.
"Other members of the campaign pitched in as well. We asked that people gave what they could," to help the campaign, Huey said.
These newly elected candidates have promised to enact everything they campaigned on and stated their gratitude for the amount of support they received.
"Throughout the whole campaign, we got so much support and so many messages were shown. At the end of the day, we said 'win or lose,' we won already," Huey said.
Huey noted the importance of volunteers to the success of the candidates.
"We did as much as we could within the restraints we were given. We had a really great, amazing team of people who worked together to make our campaign so strong," Huey said. "Overall, my team picked up pretty quickly how to interact with people and appear approachable. I'm so, so happy that all of our hard work paid off and now we can work on actually implementing our platform."
Oscar Parra and Jessica Riley, former candidates for President and Vice President, lost the race but were strong competitors throughout. Parra and Riley campaigned for at least five hours every day at various spots on campus, bringing in 40 percent of the 750 votes.
Derek Hunter, campaign manager for the Parra/Riley ticket, said their campaign spent $185.58 on the race. The funds, which came from the candidates themselves, were not the centerpiece of the campaign, according to Hunter.
"The key ingredient of our campaign was the passion and dedication from our candidates," Hunter told Hilltop Views in an email.
In addition to tabling, Parra and Riley printed a large, full-color banner to help campaign, which was ultimately not allowed by the Elections Commission.
Parra and Riley's campaign was built on inclusion, service and action. Despite their disappointment, they plan to work with Rios and Castanon to facilitate some of the changes their campaign promised.
"No matter what position I have, I'm never going to stop fighting for the voices of students on campus. I care about the issues, I care about the ideas, and I care about the visions for this campus. I'm honestly thrilled to work with Leslie and Athina and continue to grow strong next year," Riley said.
While Parra and Riley plan to assist Rios and Castanon, they have some plans of their own.
"Next semester, I plan to apply to be the CFO next year and hopefully I can get the position. I hope that next year we can actually work together to accomplish something," Parra said.
Riley also plans to apply as the external affairs coordinator in order to implement all of the student outreach events the team had originally planned.
Leave a Comment
About the Contributor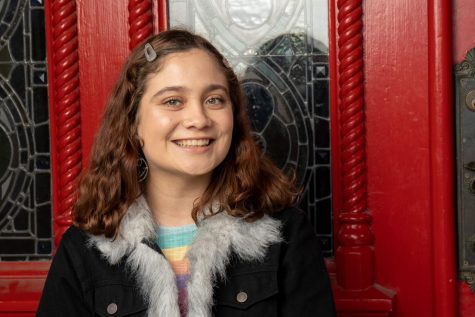 Sammy Jo Cienfuegos, Viewpoints Editor


Hey ya'll! My name is Sammy Jo Cienfuegos and I'm one of the two Viewpoints editors. I'm a senior Writing and Rhetoric major, with an emphasis in Creative...