SEU baseball sweeps St. Mary's in annual Battle of the Saints series
Friday Feb. 21 kicked off the annual St. Edward's versus St. Mary's University Battle of the Saints. With a total of four games, the Hilltoppers managed to win each game against the Rattlers. 
With some difficulties in the defense-area, St. Edward's (7-7) was able to carry the lead with their offensive skills.
In the series opener on Friday, Jack Granack, pitched all seven innings. Granack struck out five hitters and let one walk. Come fourth inning, Tyler Dean hit a single toward center field, allowing Dante Gutierrez and Blake Holub to cross home plate. The Hilltoppers showed up even stronger with five hits in the sixth inning. Catcher Hunter Torrez swung at flyball, sending it to the outfield, sparing Zane Phelps time to make it home. This occurred after Phelps hit a double, clearing the bases. In the final inning, the team achieved three additional runs, ending the game 11-1. 
Head coach Rob Penders said after the game, "Jack was kind of a surprise as a freshman. He's been really outstanding for us, so hopefully, we keep that going." Granack, a freshman from Spring, Texas currently has 18 strikeouts this season, with a WHIP of 1.04.
The Hilltoppers then won the first game of Saturday, 3-0, with Holub pitching almost a full five innings. After walking four batters and giving up three hits, Holub was checked on at the mound, as his pitching arm caused some concern amongst the trainers. Come the sixth inning, Nicolas Davis approached the mound with two outs. In the third, Jacob Vasquez, hit a two-run homerun, then pitching the seventh. With bases loaded, Phelps walked, ending Game 1 of Saturday at 3-0. 
Penders shared that the team's biggest strength right now, and seen throughout the preseason, is hands-down their pitching. "Our starting pitcher, Blake (Holub) went six innings today," said Penders, "and Nate (Medrano) has been going deep into games for us."
But for every strength, a weakness follows, and right now the Hilltoppers' weakness is defense. Penders said that is where the team has been hurt the most. "More than anything, we haven't played good defense and given up free bases, [which is] when teams score runs on us." Penders said they are "try[ing] to eliminate those as much as we can."
Ending Saturday with a tight score, St. Edward's won the final game 8-7. The two teams appeared to be switching leads every couple innings. Most notable of this game was catcher Hunter Torrez who scored a three-run hit, and pinch runner Zarian Forde who stole three bases. 
Closing off the series on Sunday was yet another win for the Hilltoppers. Gutierrez started the team off well with a three-run homer. The team had three more runs in the sixth inning. Tyler Brown performed well on the mound, striking out eight batters in all seven innings that he pitched. The final score was 8-3.
Penders said "We want to go out on a good note and make sure we end in a championship position. If that's conference championship or regional championship." Penders hopefully shared that "that's the position we want to be in, and that's always our goal."
Leave a Comment
About the Contributor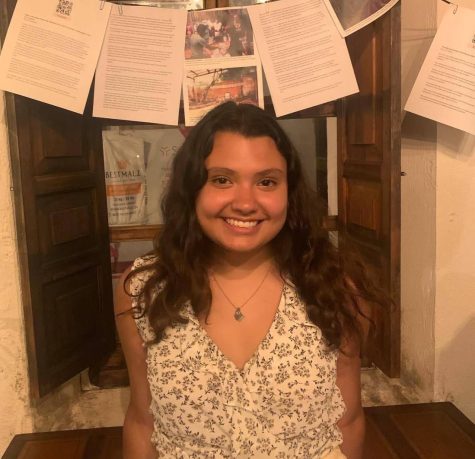 Nina Martinez, Copy Editor
Nina Martinez is a senior at St. Edward's University, earning her Bachelor's in Writing and Rhetoric. Martinez has reported and edited for Hilltop...