Senior women's soccer player seizes every moment during her final days on the Hilltop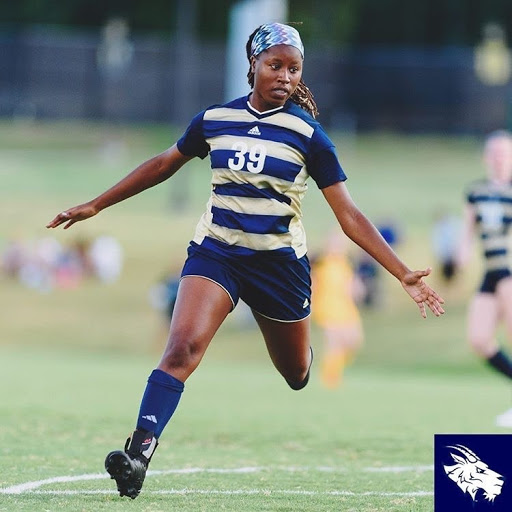 It is a bittersweet moment for the senior captain of the women's soccer team at St. Edward's University. Undergoing her final year of eligibility and preparing to say goodbye to familiar faces and playing the sport she loves the most, Chidera Aririguzo, who plays defender, is reflecting on her time on the Hilltop. 
As the soccer season was postponed to this spring due to COVID-19, Aririguzo found this transition hard to adjust to as she attended Zoom classes and trained on the soccer field while following COVID-19 guidelines. Aririguzo's mental health took a toll in learning how to reconnect with people and finding the silver lining through her new normal that she once took for granted. 
"You've got to find the silver lining. I did a lot of introspection last summer leading up to fall. While everything was shut down, I realized life is short; you've got to appreciate the little things in life like being able to have the opportunity with a bunch of people and play a sport that we all love." Aririguzo said. "Not a lot of people get to do that, so I really took that in stride. Especially with this pandemic, it just made me realize my days are numbered as an athlete. I have to take advantage of any opportunity that I can get to be on that field with my teammates."
Aririguzo and her teammates don't have a lot of time to prepare and get acclimated with their season. With fewer games scheduled, they have to seize every opportunity. She gives credit to her teammates for having great energy while working together in adjusting to different policies as they prepare for their first game on Feb. 17 against St. Mary's University. Aririguzo gave advice to her younger teammates to enjoy every game no matter the outcome and to appreciate every moment the program has to offer.
"All the difficult things that go into a season, I want to see even those moments as fun because I'm with other girls that are like my sisters," she said. "I just want us to all have a strong bond and enjoy the sport, more than anything." Some of the memories Aririguzo will remember the most are enjoying little moments like team dinners or dancing and singing with her teammates in locker room victory parties. In addition, she takes pride in helping raise awareness in demonstrating against racial injustice and finding opportunities to give back to the SEU community.    
Head Coach Nick Cowell has watched Aririguzo grow as an individual and a competitor over the past four years. "Chidera is a competitor and a leader by example. She plays with the team but always for the team," Cowell said. "She has grown into a strong young woman dedicated to making the world a just place. I have been blessed to see Chidera really develop as a player and a person in our program."
Aririguzo summed up her college experience with a perfect anthem."Life is a Highway" by Rascal Flatts. The song represents her being a young adult going through the ups and downs in life but still managing to keep a positive mindset. She keeps herself grounded and is optimistic about her future. No matter where life will take her, you will always find her playing soccer."I think it will always play some part in my life. I will somehow find myself on a soccer field playing with people."
View Comments (2)