SEU volleyball team ready for the start of the 2021 season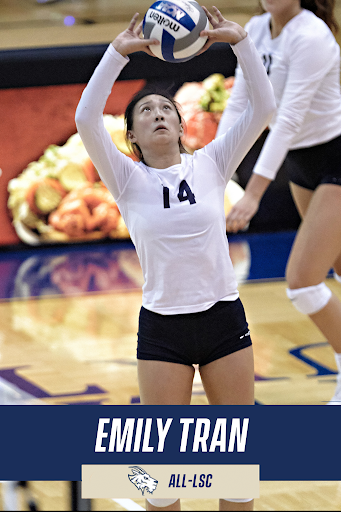 Whether it's on the court or in the classroom, St. Edward's student athletes are working hard towards their future. Emily Tran, senior setter for St. Edward's women's volleyball team is no different. In 2020, Tran was added to the Lone Star Conference All-Academic team. Originally from Eagan, MN, Tran has been a part of the Hilltop community for a little over three  years. The time she has spent at SEU is filled with memorable moments which helped create the person she is today. Eager for the upcoming season, Tran expressed how the team has "high expectations, wants to go to conference." Tran, like many other athletes, is thrilled by the progressive shift towards a normal sports setting.
As for how COVID-19 affected the way that she views her sport, Tran gained a new perspective.  "It made me a lot more grateful, especially because other university teams couldn't play," Tran said. 
 Last year brought a lot of limitations but as more  universities are able to compete, the team is motivated to do well and have "a solid year." Tran also mentioned  the challenges COVID brought to their team dynamic by emphasizing how tough it was to bond as a team. However, with this year's new rules, getting to know teammates is much easier and their friendships are stronger than ever.
Most would agree that college is an unforgettable experience. Therefore, we felt it imperative we ask Tran about her favorite memory from her years on the Hilltop. 
"My sophomore year. I think it was one of the best years we played," Tran said. The women's volleyball team had recently been introduced to the Lone Star Conference (LSC), which is connected to the NCAA, and that same year they won the trophy for the LSC Division Championship. This victory was without a doubt the product of hard work.  "We had a tough pod and we came out on top," Tran said.
Tran compared her first two years of college volleyball to her junior year when describing the feeling of being on the court.  During her freshman and sophomore year, Tran described playing as "mostly muscle memory." Due to the absence of fans, adjusting to people in the stands may be a challenge. "When  spectators are allowed, I know I'll have a lot of nerves and will have to shake some of it out," Tran said. 
With such strong goals and determination for excellence, it is only natural to have something or someone that inspires you. For Emily Tran, that's her best friend and teammate: Steffy Walls. 
"She is like the ultimate, elite person," Tran said,  "Have you ever met someone who can grind out everything? She inspires me because I want to have the same positive attitude and energy that she does."  
Along with inspiration from her peers, Tran is also looking to the future. Her ideas for post-graduation include studying for her masters, playing another year of volleyball with St. Edward's or seeing where her internship will take her. 
"I definitely am going to be playing volleyball, some way somehow," Tran said "There is a lot of opportunity."
Leave a Comment