St. Edward's Volleyball kicks off conference play at home, finishing 1-1
St. Edward's women's volleyball team beat Texas A&M-Commerce, on Sept. 24. They won  three out of the four sets, improving their overall record to 7-3. 
SEU started out strong but fell short during the first set as Texas A&M Commerce slowly made a comeback. The team did not fret as they moved on to beat Commerce in the three consecutive sets. While they dominated in the third set finishing 25-19, the fourth set tested their composure under pressure as Commerce caught up towards the end. 
Senior setter Emily Tran had a stunning performance, finishing the night with 43 assists and 15 digs. Tran took a holistic approach to prepare for the game by focusing on the mental and physical. "Most of the time I'm just trying to get into the mindset of preparing my body and mind…but most of my pre game hype comes from my team," Tran said. 
As an upperclassman and a crucial part of the team, Tran handles her leadership role with a skillful, unassuming confidence. "I think my leadership is relatively quiet, I try to lead by example… staying disciplined and accountable for my actions so people can follow," Tran said.
Junior right side hitter Maya Smalls had a career high of three assists and seven digs. Smalls' energy on the court is undeniable, so her attitude following the loss of the first set was pivotal in the team remaining composed. 
"We didn't lay down and die, we didn't let the other team trample on us because we know [what] we are capable of and we kept our foot on the gas the whole time," Smalls said.
Smalls described her playing style as "intense, energetic, and funky", a perfect depiction of her strong offensive skills. Smalls' leadership presence on the court is evident. Smalls' infectious energy and passion stems from the joy she finds in playing with her teammates. 
"Honestly I love volleyball…and love being around people who love it as much as I do. I love seeing people happy and love being able to make them feel that way. If I'm doing the best right now, I'm doing the best I can to help them by giving them the most positive energy, by hyping them up," Smalls said. Smalls will be one of the Hilltoppers headlining this team, however, she is confident in her team most of all.
"I'm ready for this season… especially after last year with COVID, we are turning it around and focusing on our team dynamic and it's showing on the court, we're just trying to be better as a unit," Smalls said. 
The team finished the weekend by taking on nationally ranked No. 23 UT Tyler, despite falling short, SEU leveled their conference record to 2-2. SEU will travel to Odessa to take on UT Permian Basin on Sept. 30.
Leave a Comment
About the Contributor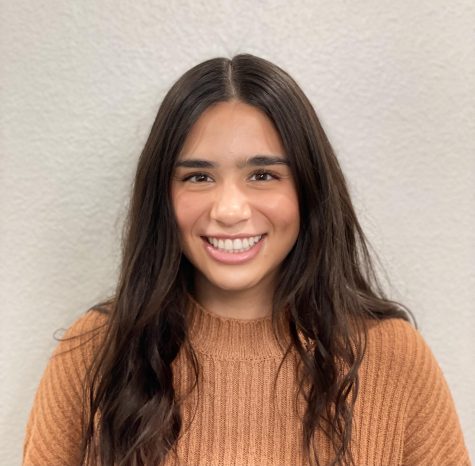 Odett Ochoa, Sports Editor
My name is Odett Ochoa, I am currently pursuing my Masters of Business Administration at SEU. I joined HV Fall of 2018 as a staff writer, and have loved...