CLUB SPORT: SEU rowing club glides at dawn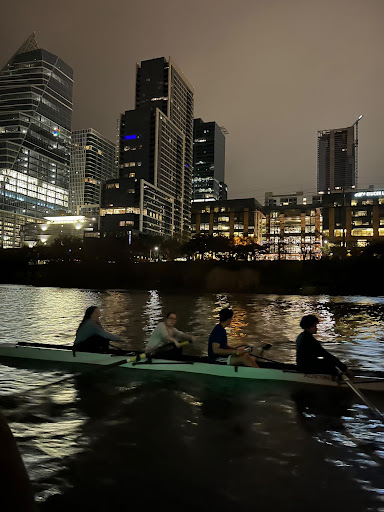 Have you ever wondered who the people you see gliding at dawn along Lady Bird Lake are; sun bouncing off the oars as they row on their long, thin boats? It's possible you've seen the St. Edward's rowing club members practicing. 
Rowing does not necessarily have a flattering public image, because it is often portrayed as a difficult and exclusive sport or is not covered at all in the media. 
According to club President Patrick Jones and the coach, Liv Foletta, rowing is not based on special skills or ability predisposition, because it is the effort that counts. 
"Once you get a hang of basic rowing technique, how successful you are is entirely determined by the amount of effort you and your teammates expend," Jones said. "There is no other sport quite like it."
Rowing can fit people who want to keep an active lifestyle but haven't found the sport that calls to them yet.
"It didn't interfere with my classes, and it was open to people who didn't have a lot of skills," Evelyn Schneider, who has been part of the rowing team since the beginning of the semester, said.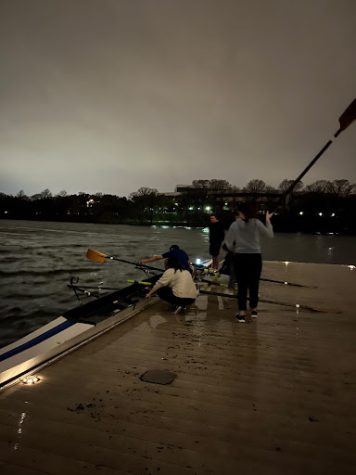 Practices begin in the darkness of the early morning and last until sunrise. They take place on Lady Bird Lake every Wednesday from 5:15-7 a.m. and Saturday from 7-8:45 a.m. The "team captains" training — involving a workout with the rowing machines at the Austin Rowing Club gym — happens every Thursday from 6:30-7:30 a.m. While most of the city is still asleep, the rowers take advantage of the flat water and ideal weather conditions.
"(The practices) are not as bad as they sound," Foletta said.. "Getting out; working out — it makes you feel accomplished. Going through the rest of your day feels a lot easier." 
At the moment, Foletta and Jones are focusing on getting the team more solid: The members mainly compete with each other in order to work on their movement quality. They aspire to participate in regattas — rowing competitions — again soon. 
"We have made a lot of progress this semester," Foletta said. "Hopefully we will be racing in October for the Head of the Colorado, that's our ultimate goal."
Not many students are aware of the variety of club sports at St. Edward's. For students like sophomore Zoe Stuart, the rowing club's existence is little-known.
 "I know that we have one, but I don't know anything about it," Stuart said.
Upcoming tryouts will happen next fall semester. Foletta and Jones plan a "free week" experimental practice around September to give a sample of what the sport and club look like before students officially decide to join. 
"It is a good bonding experience," Foletta said. "If you are looking for a more individualized workout, where you still have a team element, rowing is a great place to be."
View Comments(1)